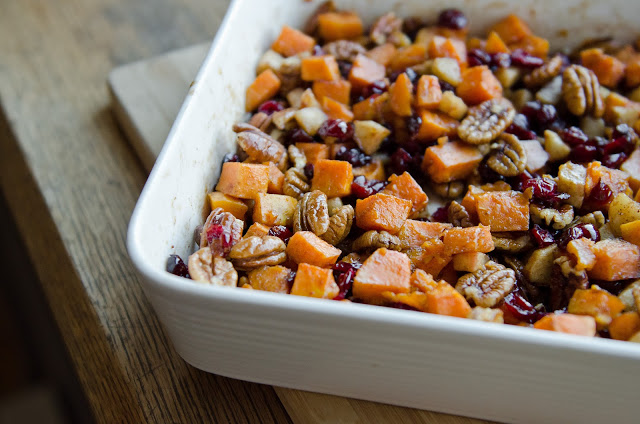 Hello and happy Thanksgiving weekend to my fellow Canadians! xo Hope you are all having wonderful celebrations with family and friends. Last night, we had a Thanksgiving dinner at our condo with Jesse's family. And, as tradition goes, we made too much food and ate way too much. But it was perfect. It was nice to spend time all together and catch up. Tonight, we are attending Thanksgiving dinner at my parents' house. My mom is in charge of making turkey and the pumpkin pie. Mmmm! Pumpkin pie :) I will be bringing vegetarian meatballs and some side dishes including these roasted sweet potatoes. My sister just informed me that she is making a special salad for the vegetarians in the family. I'm excited to see what she brings!
My favourite side dish to make for Thanksgiving is roasted sweet potatoes with all sorts of yummy additions. The sweet potatoes are tossed with ground cinnamon, brown sugar and nutmeg then roasted with fresh apples and dried cranberries. Right before the sweet potatoes are finished roasting, I add buttery some pecans for texture and added protein. And well, I love pecans. The best part of this dish is that you can put it in the oven and allow it to roast while prepping all of your other Thanksgiving dishes. 
This is the perfect special side dish for the holidays. It's always a huge hit. My family always comments that it tastes more like dessert than a vegetable side dish. :) Dessert for dinner? I'm sold!
Do you have a tried-and-true recipe that you make everything Thanksgiving? I always make these roasted sweet potatoes and fresh, homemade cranberry sauce. Yum! :)
Ingredients
2 tablespoons of canola oil or olive oil

1 large sweet potato, peeled and diced into 1/2 inch cubes

2 medium apples, peeled an cubed

1/2 cup of dried cranberries

1 teaspoon of ground cinnamon

1/4 teaspoon of ground nutmeg

2 tablespoons of firmly packed brown sugar

1 cup of pecans

salt to taste
Note: you can substitute butternut or acorn squash if you don't have sweet potatoes on hand.
Method
1. Preheat oven to 425'F. Combine the brown sugar, cinnamon, nutmeg and a pinch of salt in a small bowl.
2. Place the sweet potato, apple and cranberries in a 1 and 1/2 quart baking dish. Drizzle with canola oil or olive oil. Sprinkle the sugar/cinnamon mixture over top and mix well to coat.
3. Cover and bake for 30 minutes. Remove the cover and add the pecans. Mix well and bake an additional 15 minutes (or until the sweet potato is tender).
Yield: about 6 side dish portions
Source: adapted from Canadian Living Magazine