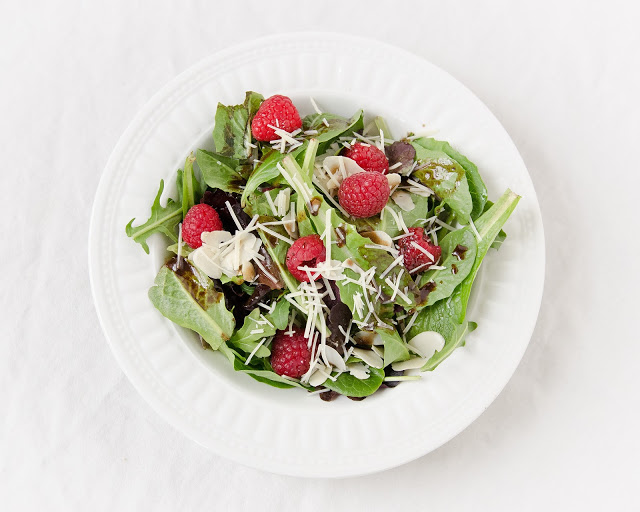 A few years ago, I went to a wonderful local French restaurant called
Chez Sophie
with my French class. It is a lovely little bistro with all sorts of delicious items. I had a heck of a time deciding between a veggie quiche or a delicious grilled cheese sandwich. But what really caught my attention was a simple romaine salad with a chocolate balsamic viniagrette. Chocolate…in a salad!? I was incredibly intrigued and ended up ordering it to enjoy with a piece of quiche. My curiosity was rewarded, as the salad was wonderful. The dressing was bittersweet + slightly acidic. It paired up incredibly well with the salty parmesan curls used as a garnish. Yum!
For Valentine's Day this year, I thought I would try and re-create the salad at home to share with my Valentine :) To make it extra special and romantic, I added some fresh raspberries and slivered almonds. I'm not sure if it is possible for a salad to be romantic, but there's something romantic about fresh raspberries and luscious chocolate. In my opinion, this combination is pure decadence and perfect for a special occasion such as Valentine's Day.
Cocoa Balsamic Dressing
3 tablespoons of balsamic vinegar
3 tablespoons of canola oil
1 heaping teaspoon of unsweetened cocoa powder
1 heaping teaspoon of honey (or sugar)
salt and pepper to taste
mix of baby romaine, baby spinach and arugula
pint of fresh raspberries (or strawberries)
1/2 cup of slivered almonds
1/4 cup of grated parmesan cheese
bittersweet chocolate curls or cocoa nibs for garnish
Method
1. In a small jar, combine all of the dressing ingredients. Shake to mix and set aside. Allow the dressing to sit for 10 minutes for maximum flavour.
2. In a salad bowl, toss the greens, raspberries, slivered almonds and parmesan cheese. Drizzle the cocoa balsamic dressing over top and toss. Garnish with chocolate curls or cocoa nibs.
Note: enjoy this salad with a glass of red wine :)
Yield: 4-6 servings
Source: inspired by a salad at Chez Sophie in Winnipeg