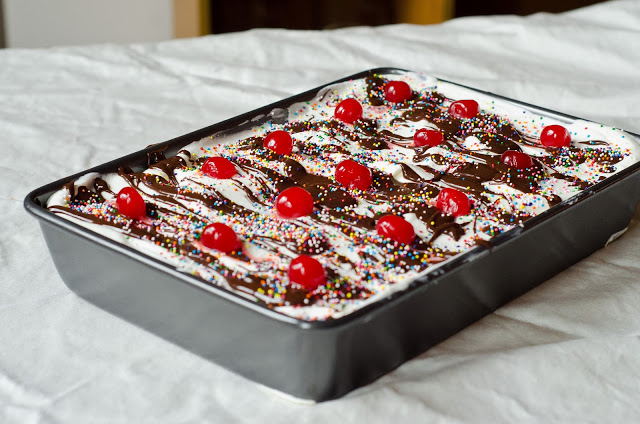 For your Friday viewing pleasure – a no-bake cheesecake filled with bananas, pineapple and strawberries. Yum! I made this lovely summery dessert for my family before I started the
Living Your Moksha Challenge
. My mom put together a really nice BBQ last weekend to celebrate the coming of spring. She made her famous (and my favourite)
spring potato salad
and a delicious Greek Panzanella. I brought this dessert and it was promptly devoured even though we were all extremely full from a delicious dinner.
It was a really nice, light dessert that tasted very much like a banana split sundae. As my dad said, every bite highlighted different flavours. I highly recommend bringing this easy dessert to your next BBQ or girls' night. I guarantee it will be a hit :)
I'll be back over the weekend with some posts regarding the food I made during my first week of the Living Your Moksha Challenge. Week One's challenge was to eat non-processed foods. I've been making a conscious effort to choose non-processed, organic foods over the week. I tend to eat as much non-processed food as possible and try to make everything from scratch. But it can be quite time consuming, especially when you are really busy. This week I tried to make meals without processed ingredients that were quick and easy in hopes of creating a good repertoire of meals I could go back to in a pinch.
Happy Friday to All :)
Crust Ingredients
2 cups of graham cracker crumbs
1/2 cup of unsalted butter, melted
Cheesecake Layer Ingredients
12 ounces of cream cheese, at room temperature (1 and 1/2 packages)
1/4 cup of granulated sugar
1 teaspoon of pure vanilla extract
3 and 1/2 cups of whipping cream (35%); chilled
1 tablespoon of granulated sugar
Fruit Topping Ingredients
3 to 4 ripe bananas; sliced
1-15 ounce can of crushed pineapple, drained well
2 cups of sliced strawberries
Garnish
chopped salted peanuts
chocolate syrup
maraschino cherries
coloured sprinkles
NOTE: I used low-fat cream cheese and it still tasted wonderful
Method
1. In a medium bowl, combine the graham cracker crumbs and melted butter – stir until all of the crumbs are evenly moistened. Dump the crumbs into a 13 x 9 inch baking pan and press into an even layer. Refrigerate the pan while you prepare the next layer.
2. In a stand mixer (or with a handheld mixture) whip all 3 and 1/2 cups of whipping cream & 1 tablespoon of sugar until you have a light mixture that forms soft peaks. Place in the fridge.
3. In a medium bowl, beat together the cream cheese, sugar and vanilla extract on medium speed until light and fluffy (about 3 minutes). Using a rubber spatula, fold in 2/3 of the chilled whipped cream until it is thoroughly combined. Spread the cheesecake mixture on top of the graham cracker crust.
4. Arrange the banana slices in a single layer on top of the cheesecake filling then top with an even layer of the crushed pineapple. Finish by adding a layer of sliced strawberries.
5. Cover the fruit layer with the remainder of the sweetened whipped cream. Allow the topping to be nice and fluffy to add some dimension to the cake.
6. Drizzle chocolate sauce over top the whipped cream topping. Sprinkle on chopped salted peanuts and coloured sprinkles. Arrange maraschino cherries a top the cake.
Refrigerate for at least 4 hours before serving.
Serves: 14 to 16 people