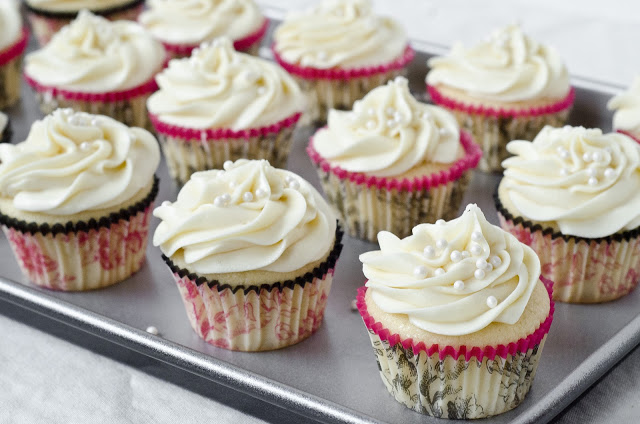 This past Sunday, my auntie Mary hosted a fantastic wedding shower for my little sister. It was a truly beautiful event. My auntie and cousins put so much love and thought into the shower. All of the details were so representative of my sister's style & taste. She felt so very spoiled and loved during the shower – so, I would say, mission accomplished! I have to admit, I am kind of jealous that my sister got a gorgeous set of Curtis Stone pots & pans though! *hah* My aunt had the whole event decorated with beautiful flowers and accents of "Tiffanys blue". The food was wonderful – fancy tea sandwiches and a lot of delicious dainties. My mom brought beautiful petit fours from High Tea Bakery – they were fantastic. My contributions to the shower were Mini Ferrero Rocher Cheesecakes and these White Chocolate Cupcakes. 
I had made the white chocolate cream cheese icing before and got rave reviews. But I paired the icing with a plain vanilla cupcake recipe the first time around. They were good, but not quite right. This time, I tried a white chocolate cupcake batter and it was perfect! Such a moist and fluffy texture. This recipe will definitely be my standard white cake recipe. Next time, I think I will try a lemon cream cheese frosting and add some blueberries to the batter. 
Hope you all have a fantastic Tuesday :)
Note: for the Mini Ferrero Rocher Cheesecakes, I used this recipe. I omitted the chopped oreos and added 1/2 cup of Nutella and 1/2 cup of chopped hazelnuts.
Cupcake Ingredients
1 and 1/2 cups of all-purpose flour

1 teaspoon of baking powder

1/2 teaspoon of salt

1/3 cup of unsalted butter (5 + 1/3 tablespoons)

3/4 cup of granulated sugar

2 large eggs

4 ounces of good quality white chocolate, chopped and melted

1 teaspoon of vanilla

1 cup + 1 tablespoon of skim or 2% milk


Frosting Ingredients
8 ounces (1 package) of cream cheese, at room temperature

1/2 cup (1 stick) of unsalted butter, at room temperature

6 ounces of white chocolate, chopped and melted

2 teaspoons of pure vanilla extract

4 to 6 cups of icing sugar (confectioner's sugar)

milk to thin out icing if too thick


Note: to melt the white chocolate, use the double boiler method. 


Method: Cupcakes


1. Preheat oven to 325'F.


2. Line a cupcake pan with cupcake liners of your choice.


3. In a large bowl, whisk together the flour, baking powder and salt. Set aside.


4. In another large bowl (or with a stand mixer), cream the butter and sugar together on medium-high speed until light & fluffy (2 to 3 minutes).


5. Add the eggs in one at a time, mixing well after each addition. Add the melted white chocolate and vanilla – mix well.


6. Add the dry ingredients alternating with the milk in 2 to 3 portions. Mix well after each addition. Divide batter evenly into prepared cupcake pan.


7. Bake cupcakes until a tester inserted into the centre comes out clean or with dry crumbs (about 22 minutes). Let cool completely before frosting.


Method: Frosting


1. In a medium bowl (or with a stand mixer), cream the cream cheese and butter on medium-high speed until smooth (1 minute). 


2. Add the melted white chocolate and vanilla extract. Beat until smooth.


3. Reduce the mixer speed to low and add the confectioner's sugar until you reach your desired consistency. Add milk 1 tablespoons at a time if needed to smooth and/or thin out the frosting.


4. Pipe frosting onto cooled cupcakes using desired decorating method.


Yield: 18 cupcakes


Source: The Curvy Carrot