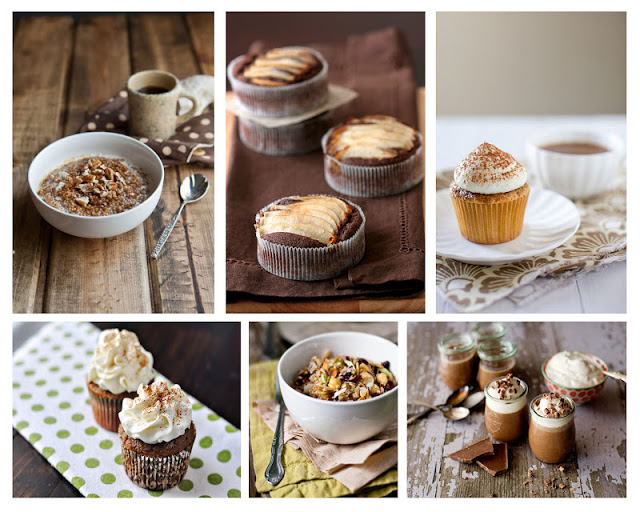 Hello and happy Friday! I hope you had a terrific week! My week was pretty good! It was actually a fairly quiet week – which is rare. Temperature records were shattered all across Canada this week and it looks like this upcoming weekend is set to have temperatures akin to those we would normally have in June or July. How exciting!!! I am hoping to sit out on a patio tomorrow to celebrate St.Patty's Day. Perhaps have a green pint. :) I am also looking forward to going to a park for a long walk on Sunday and out for dinner with Jesse to celebrate our anniversary. 
What are you doing to celebrate St.Patrick's Day? 
This week, I was drawn to rich tones when choosing my favourites of the week. It all started with the Tiramisu Cupcakes. Holy crap – i love cupcakes and I adore tiramisu. I cannot wait to make these cupcakes! Also, I fell in love with Naturally Ella's post on Pumpkin Pie Millet Porridge. The photos took me to a quiet day at the lake. So peaceful. Her post Homemade Hazelnut Chocolate Larabar is also really good and I recommend you check it out.
Today, I'd like to share two blogs I recently fell in love with. The first, Kimber-Hills, has the most gorgeous photography. I love the style. It's so rustic, yet so light and inviting. The moroccan mint tea with hibiscus granita looks so elegant. The second blog, Elephantine, has the most wonderful cooking videos. They are so charming with wonderful music. Beautifully done!
This week, I would also like to draw your attention to A Couple Cooks. I have mentioned this blog a number of times on The Fig Tree. It is by far one of my very favourite blogs to visit. The recipes all look so flavourful & healthy and the photography is – just so pretty. Sonja and Alex just seem like such wonderful people. They are about to embark on adventure in Cambodia where they hope make a huge difference in the lives of a group of girls. They will be working with at-risk girls – teaching them how to cook; looking to better their future prospects & improve their self-esteems. It is truly honourable work and I wish them all of the best!  Please check out their most recent post Off to Cambodia and support their efforts if at all possible.
My friend Serena has the most wonderful artwork & jewelry for sale in her ETSY store. She also has a fantastic blog with a lot of wonderful healthy cooking posts at What A Sweet Life. 
Have a great weekend everyone! I'll be back on Sunday with a recipe post. Not 100% sure what I will be making. I'm heading to the market tomorrow to see what inspires me :)
Happy St.Patrick's Day!!!