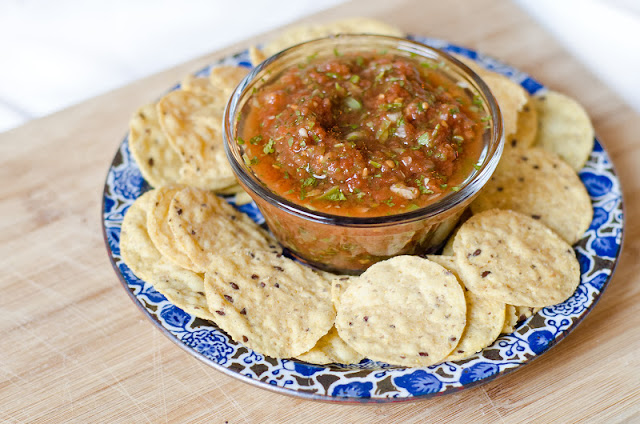 A few years back, my mom's best friend Rosa offered to make some delicious El Salvadorian food to contribute to a birthday party we were having for my dad. As a salsa addict, I've tried many different kinds. But the salsa Rosa made for my dad's party was BEYOND amazing. I actually got to the point where I was by-passing the chips and just straight up eating the salsa with a spoon. *HAH*
After that, I begged my mom to get Rosa to make me more. And being the wonderful lady that she is, a few months later, I got a massive jar of the salsa for my birthday. :) Yum! Every birthday since, Rosa sends home some salsa for me. (Thank you Rosa!!!) Last year I took some salsa to a girls' weekend at my friend Michelle's cabin. We devoured the bowl of salsa while sunning on the dock. A few more people had become addicts to Rosa's salsa.
 Recently, Rosa made some salsa for a party my family had in honour of my sister's engagement. Word started to get around about Rosa's salsa and everyone began asking me where & when they can get more of it. Luckily, Rosa was willing to provide me with her delicious recipe. I'm not sure it will taste exactly the same – as I know she puts a lot of love & care into whatever she cooks. But if it comes even close to as-good as hers, I'll be set for life! :)
This simple yet delicious salsa can also be used as a base for a delicious huevos rancheros sauce or to make delicious vegetarian fajiitas (recipes to follow).
Ingredients
1-19 ounce (596ml) tin of whole roma tomatoes
3 green onions; chopped
1 small jalapeño; de-seeded and roughly chopped
1/2 bunch of fresh cilantro; cut in half at the stems
sea salt and pepper to taste


Method
1. Place tomatoes, green onion, jalapeño and cilantro in a blender or food processor and pulse. Note: this salsa is best when left a bit chunky.
2. Season with salt & pepper.
Serve with corn tortilla chips or use the salsa in one of the following ways:
Huevos Rancheros Sauce: Heat 1 cup of salsa with 1 teaspoon of olive oil and 1/4 tablespoon of butter. Once the mixture is heated through, add a teaspoon of dried oregano. Mix and serve.
Vegetarian Fajitas: Sauté red onion slices & strips of zucchini, red pepper and yellow pepper in a pan on medium-high heat until just tender. Add a few small scoops of the fresh salsa. Place vegetables in a tortilla and top with tex-mex cheese blend.
Source: Rosa *heart*