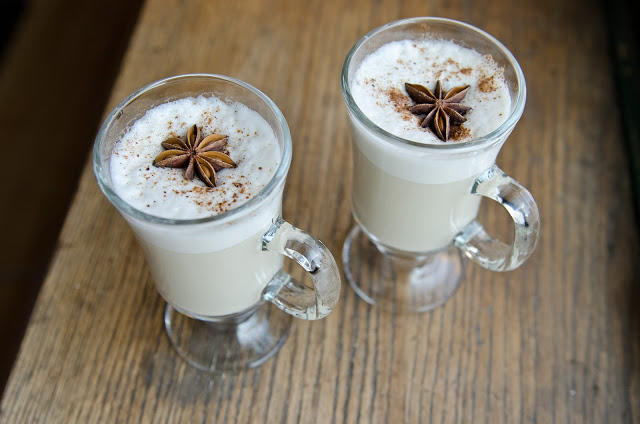 I started Vegan Tuesdays back in early September in an effort to become more proficient in vegan cuisine, to reduce my consumption of dairy and to try and feel a bit healthier. Three months into Vegan Tuesdays and I've never felt more inspired. Putting together my Vegan Tuesday posts and testing out different vegan recipes has definitely breathed new life into me (and into my kitchen). I've really enjoyed Vegan Tuesdays and am incorporating more and more vegan dishes into my weekly menu plans. I'm especially looking forward to trying some holiday-inspired vegan recipes this upcoming season. 
First up? A deliciously, creamy cup of holiday eggnog – vegan style! :) This eggnog is good. Really good. I cannot tell you how much I enjoyed this holiday beverage over the weekend while cuddled up in a blanket reading a book. It has all of the delicious flavour of eggnog without the dairy and eggs. It's rich without being overpowering. It's subtly sweet with the perfect hint of spice. And it's heart warming and comforting – everything a holiday drink should be. Promise me you'll give this yummy drink a shot. 
Wishing you all a wonderful week. And to all of my American friends, have a great Thanksgiving! Please feel free to send me leftovers. xo
Ingredients
2 and 1/4 cups of plain soy milk  (or almond milk)

1 teaspoon of pure vanilla extract

1/2 to 1 teaspoon of rum extract (to taste)

1/8 teaspoon of ground nutmeg

1/8 cup of granulated sugar*

1/4 cup of bourbon or amber rum (optional)

nutmeg for garnish
Note: Use soy milk that is either unsweetened or lightly sweetened (about 5 grams per cup or less). If you use sweetened soy milk, do not add any additional sugar as directed in the recipe.
Note 2: If you use the bourbon or amber rum, reduce the amount of rum extract to 1/4 teaspoon
Method
1. In a small saucepan, heat the soy milk over medium heat until steaming and gentle bubbles form around the edge.
2. Stir in the vanilla extract, rum extract, sugar and ground nutmeg. Add bourbon or amber rum if using.
3. If you have a milk frother or a hand immersion blender with a frother attachment, froth the eggnog mixture. Pour eggnog steamer into mugs. The foam will settle at the top. Garnish with freshly ground nutmeg.
* if you are making this a vegan beverage, be sure to use vegan granulated white sugar *
Yield: 2 cups of holiday eggnog steamer
Source: loosely adapted from Canadian Living Magazine December 2012