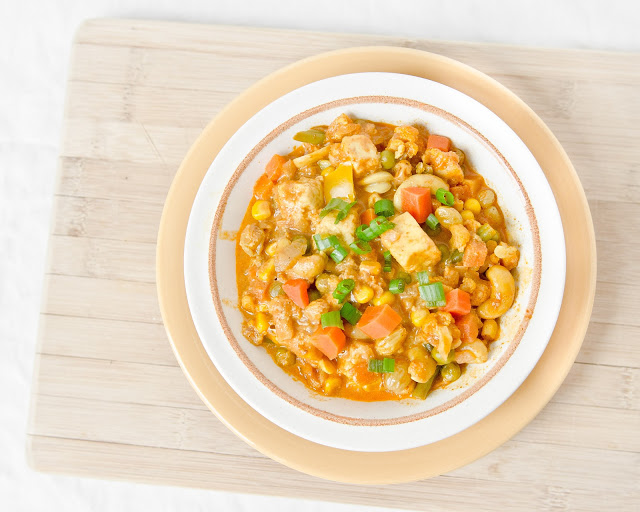 About seven years ago, I signed up for a local cooking class focusing on vegetarian East Indian cuisine. It was an 8 week course where I learned all about spices, different legumes and curries galore. Each class we made an appetizer or soup, a bread (chapatis, naan, roti etc), a main dish, a salad and a dessert. In twelve weeks, I amassed a fantastic collection of tried-and true-recipes from our teacher Rani Rehal. Each week, after all of the food was prepared, the students would sit together and eat all of the menu items. It was DELICIOUS! After I finished the class, I was completely hooked on East Indian cuisine and decided I would start making a lot of my favourite Indian take-out items at home.  At the end of the course, the teacher sold these adorable little spice kits to get us started with East Indian cooking at home. It was all the inspiration I needed! I cooked up a ton of curries and kormas over a few months. This navratan korma came out as my very favourite of all the recipes I tried. It…is….yummy!
Korma is a dish originating from Central Asia and is generally considered to be a stew with a base of cream, coconut milk, yogurt and/or nut paste (cashew paste in particular). My cooking teacher, Rani,
 showed the class a easy way to put together a savoury, flavourful korma in about 45 minutes. (You cannot rush a good curry!) The first (and most important) key is to brown the onions to allow them to develop as much flavour as possible. The second key is a good blend of spices. This recipe hits the mark with a delicious mixture of spice. There's a great balance of sweet, spicy, savoury and earthy. 
Navratan Korma is classically a vegetarian dish, but can easily be made vegan with coconut milk. Navratan 
translates to
 "nine gems" – where the combination of nine vegetables, fruits and/or nuts are the "gems". Don't be afraid of the long list of ingredients. This recipe is well worth the time and effort. You could easily mix all of the spices in advance and triple the quantity, so you are set for your next batch. I guarantee after you try this, you'll want to make a lot more :)
Hope you are all having a wonderful week! xo
Ingredients
2 medium onions, finely chopped

3 tablespoons of canola oil

3 cloves of garlic, peeled and minced

1 teaspoon of fresh grated ginger

1/4 teaspoon of ground cardamom

1/2 teaspoon of ground cinnamon

1 heaping teaspoon of ground cumin

1/2 teaspoon of turmeric

1/4 teaspoon of cayenne pepper (optional)

2 tablespoons of tomato paste

1 and 1/2 cups of vegetable stock

3 cups of mixed frozen veggies (peas, carrots, corn, green beans etc)

1 and 1/2 cups of cauliflower florets

3/4 cup of cashews

1/2 cup of golden raisins 

1 and 1/2 cups of paneer (or extra-firm tofu; cubed)

1/3 cup of cream or 1 can of coconut milk

1/2 teaspoon of garam masala

salt and pepper to taste

1/3 cup of chopped fresh cilantro or parsley (for garnish)
Note:
 feel free to add diced peppers, zucchini, eggplant etc to the korma. If you don't have raisins, feel free to use pineapple tidbits. They are equally delicious in this korma.
Method
1. Heat a medium saucepan over medium heat. Once hot, add oil.
2. Add onions and sauté them until a nice, golden brown (about 15 to 20 minutes). Once onions have browned, add the garlic and ginger. Sauté for a minute and then add the cinnamon, cumin, cardamom, turmeric and cayenne. 
Toast the spices for a minute and then add the tomato paste.
3. Slowly whisk in the vegetable stock and bring mixture to a boil. Reduce heat to a simmer and add the cauliflower florets and frozen vegetable mixture. Allow the vegetables to cook for about 15 minutes and soften. Season the dish with salt and pepper.
4. Add the cashews, raisins and paneer cheese. 
Slowly stir in the cream or coconut milk. Heat through. Note: if the paneer is frozen, make sure to thaw it before adding it to the korma. I normally place the bag of frozen paneer in warm water for 15 minutes before adding it to the korma. Works like a charm!
5. Add the garam masala right before taking the korma off the heat.
Serve the korma with a cilantro or parsley garnish. Serve with basmati rice and/or garlic naan.
Yield: serves 6
Source: inspired by Rani Rehal (cooking instructor) in Winnipeg