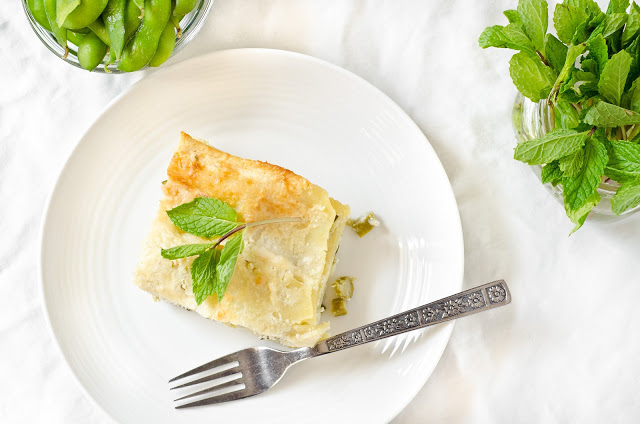 Happy Easter! Hope you are all having a nice day celebrating with friends and family. Did the Easter bunny stop by your place? The Easter bunny left me a chocolate bunny with crispy rice – my favourite! :)
Today I wanted to share a delicious, light lasagne that celebrates all of the best of spring vegetables. The lasagne has fresh local asparagus, leeks, fresh peas and edamame beans. I also added some zucchini for good measure. I adore zucchini and add it to everything. It's such a versatile vegetable. The lasagne is kept together by a delicious minty, lemon ricotta sauce. Yum! The perfect flavours to celebrate spring.
The original recipe called for 1 and 1/2 cups of cream plus 2 cups of cottage cheese. I opted for 2 cups of low-fat ricotta cheese and used some left-over pasta water to create a nicely rich & creamy sauce. The sauce is still very flavourful, but a lot lighter and low in saturated fats.
Hope you all have a fabulous Easter. We are off for a nice long walk and then to my grandma's house for Easter dinner. Grandma is making a new Italian dish for the vegetarians in the family and I cannot wait to try it! My mom made a carrot cake with fresh pineapple and cream cheese icing. Hmmm…maybe we should make it an extra-long walk before dinner. :)
Ingredients
1 small yellow onion, chopped (or 1 small leek washed and finely sliced)

3 cloves of garlic, minced

1 tablespoon of olive oil

1 bunch of asparagus

2 small zucchini, chopped

2 and 1/2 cups of shelled edamame beans

1 cup of frozen peas

1 large bunch of fresh mint; roughly chopped

1 lemon

2 cups of low-fat ricotta cheese

1 box of dried lasagna noodles (or you can use fresh lasagne sheets)

1 organic vegetable bouillon cube

1 tablespoon of butter

salt and pepper to taste

Parmesan cheese 
Method
1. Put a large pot of water on to boil. Salt water well. Cook the lasagne noodles according to the package instructions. Once cooked, drizzle with olive oil and set aside. NOTE: make sure you keep about 3 cups of pasta water, as you will need it to prepare your sauce. Preheat oven to 375'F.
2. In a large saucepan, heat olive oil over medium heat. Add the onions and/or leeks and sauté for 5 minutes, or until the onions are tender and translucent. Add the garlic and sauté for a minute. 
3. Meanwhile, trim the woody ends off the asparagus and discard. Then, thinly slice the asparagus spears and add to the pan. Add the edamame beans (frozen is fine) and peas. Add a splash of the boiling pasta water to avoid having any of the vegetables stick to the pan. Sauté until the asparagus is starting to feel a bit tender.
4. Scoop out 1/2 cup of boiling pasta water. Dissolve 1 organic vegetable bouillon cube into the water and add to the vegetables. Add the zucchini and reduce heat to a simmer.
5. Once the vegetables are all semi-tender, add another 1/2 cup of pasta water along with 1 tablespoon of butter. Note: the butter creates a nice rich and creamy sauce. Add the roughly chopped mint and the zest of one lemon. Mash the vegetable mixture with a spoon. Remove from heat. Note: save another 1/2 cup of pasta water for your lasagne topping.
6. Add all but 1/2 cup of the ricotta mixture to the vegetable mixture. Mix well. Spoon 1/4 of the vegetable mixture into a 13 x 9 baking pan. Top the vegetables with a layer of lasagne noodles and a sprinkle of parmesan cheese. Repeat this layering process until all of the vegetable mixture runs out. Your top layer should be a layer of noodles.
7. Slowly add the saved pasta water to the final 1/2 cup of ricotta. Note: You want to slowly add the water until you've got a nice, spreadable consistency. You may or may not use all 1/2 cup of water. Once you've achieved the desired consistency, spread over top the final layer of noodles. Sprinkle parmesan cheese on top.
8. Bake in a 375'F oven for approximately 30 minutes or until the top is nicely golden brown. Allow the lasagne to rest for 10 minutes before serving.
Source: loosely adapted from a Jamie Oliver recipe