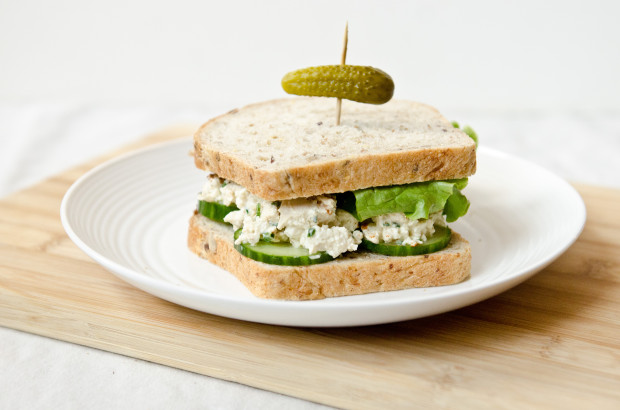 Even though I am no longer in school, September always feels like a fresh start to me . It always feels more like "New Year's" to me than actual New Year's! I'm not too sure why this is. I think I used to really look forward to going back to school in September, so I could start working toward personal goals I had been dreaming about all summer. And I loved when school started again, as I'd always get my new agenda for the year! What can I say, I'm a planner. I love me a new agenda book!
This "new" year, I want to focus on packing healthier lunches to bring to work. Sandwiches are always a good option, because they tend to be filling without being too heavy. Plus sandwiches are a great way to sneak in some extra veggies. My go-to sandwich consists of mainly veggies and hummus, but sometimes I want something a little more interesting such as my Better-than-Tuna Salad sandwich or this Deviled Egg Salad sandwich that really tastes like deviled eggs, but does not have any actual eggs or dairy. It's a great option for both work and school lunches. Serve with soup and a side salad for a full meal. Use gluten-free bread to make this sandwich completely gluten-free.
Hope you are all enjoying your weekend. Saturdays, Jesse and I always pick up vegan sticky buns and stuff our faces. :) Tonight we are heading to a downtown street festival followed by a friend's birthday dinner. Should be a lot of fun! What are your plans for the weekend?
Deviled Egg(less) Salad Sandwich
A delicious egg(less) salad sandwich perfect for school and work lunches. Crumbled tofu is combined with vegan mayonnaise, fresh chives, dijon mustard and smoky paprika for this filling sandwich reminiscent of deviled eggs.
Ingredients
half block of firm pressed tofu, crumbled
2 tablespoons of fresh chopped chives
3 tablespoons of vegan mayonnaise such as Vegenaise
2 teaspoons of dijon mustard
1/4 teaspoon of paprika
pinch of salt and pepper
16 cucumber slices
8 slices of rye or multi-grain bread
8 lettuce leaves
Method
In a small bowl, combine the vegan mayonnaise and dijon mustard. Season with salt and pepper.
Place crumbled tofu in a medium bowl and drizzle with mayo/mustard mixture. Mix well to coat. Add in the chopped fresh chives and paprika. Mix well to combine.
Lay out four slices of bread on the counter. Place four cucumber slices on each piece of bread. Top with the egg(less) mixture followed by two pieces of lettuce. Top with remaining bread slices. Garnish with a dill pickle.
Source: The Fig Tree