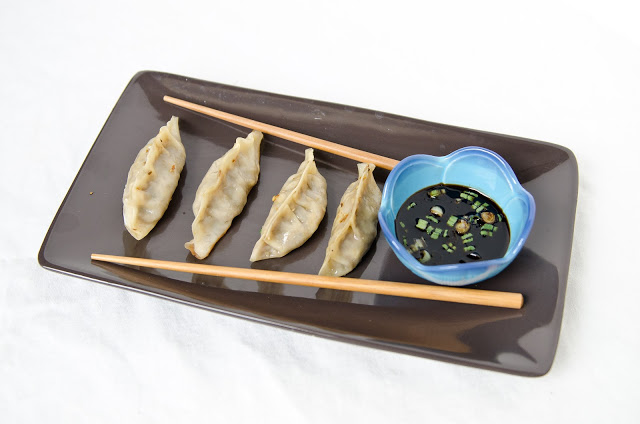 A few years ago, Jesse and I were in Minneapolis for a vacation and we had dinner at an amazing Japanese restaurant downtown. To my surprise, they actually had vegetarian gyoza on the menu. For some reason, vegetarian gyoza is difficult to come by. I find most gyoza is sold with a pork filling. Anyway, the vegetarian gyoza was incredible! The vegetable filling was perfectly spiced with ginger and garlic and served with a delicious dipping sauce. A year later, we returned to Minneapolis for another vacation and headed straight back to the Japanese restaurant to share a plate or two of the vegetarian gyoza. To my dismay, they removed them from the menu! :( I was heart broken! We'd drive 7 hours for those gyoza! *haha*
Ever since then, I've been on a mission to find the perfect veggie gyoza. A few weeks back, I found a recipe in Chloe Coscarelli's cookbook Chloe's Kitchen for cashew and mushroom dumplings. I ran to the store and bought all of the ingredients and whipped up a few batches. I had a feeling they'd be what I've been looking for and to my delight, they were perfect! Actually, they might be even better than the ones I had in Minneapolis. The dumplings are filled with sautéed mushrooms, cashews, scallions, grated carrot spiced with fresh ginger, garlic and a touch of soy sauce. The cooking method was quite easy too. You pan fry the dumplings until the bottoms are golden brown and then steam them for 5 minutes. Since Jesse and I loved the gyoza so much, I thought I should share the recipe ASAP. Making the gyoza takes a little time, but you can make a huge batch and freeze them. They are well worth the effort! :)
Ingredients
4 tablespoons of canola oil, divided
5 ounces of mushrooms, stemmed and sliced
1 cup of cashews
2 scallions, trimmed and thinly sliced
1 large carrot, peeled and grated
2 cloves of garlic, minced
1/2 teaspoon of grated fresh ginger
2-3 tablespoons of soy sauce
dumpling wrappers (egg-free if vegan)
Dipping Sauce
1/3 cup of low-sodium soy sauce
1/4 cup of rice wine vinegar
splash of sesame oil
pinch of sugar
1/2 teaspoon of grated ginger
1 clove of garlic, finely minced
chopped scallions
dash of hot sauce such as sriracha
Note: if you cannot find proper round dumpling wrappers, you can use wonton wrappers and simply cut them into circles with a round cookie cutter.
Method
1. In a large non-stick skillet, heat 2 tablespoons of canola oil over medium-high heat. Sauté mushrooms until soft and lightly browned. Stir in the cashews, scallions, carrots, garlic, ginger and soy sauce. Allow mixture to cook for another 5 minutes. Transfer mixture to a food processor and pulse until the cashew are finely ground and the mixture is somewhat smooth.
2. Place 2 teaspoons of mushroom/cashew mixture in the centre of each wrapper and moisten the edges of the wrapper with water. As you fold the wrapped in half to enclose the filling, squeeze out as much air as possible. Fold little pleats along the top, if you are inclined, before pinching to seal. To learn how to fold little pleats at the top of your dumplings, check out
this tutorial
by
The Little Kitchen
.
Note: if you want to freeze some or all of the dumplings, freeze them separately on a parchment lined baking sheet. Once frozen through, placed them in freezer-safe container or re-sealable bags. Allow gyoza to thaw before cooking.
3. Heat remaining 2 tablespoons in oil in a large non-stick skillet over medium-high heat. When the oil is hot, arrange the dumplings in the skillet. Do not overcrowd them. Cook the dumplings for a few minutes until the bottoms are lightly browned (about 3 to 5 minutes).
4. Once browned, slowly fill the skillet with 1/2 inch of hot water. Be very careful to avoid spattering the oil. Cover the skillet immediately and let cook for 5 minutes, or until the water has evaporated. Remove from pan and place on a parchment lined baking sheet to cool slightly. Serve with dipping sauce.
Dipping Sauce: combine all ingredients and serve.
Yield: I used small dumpling wrappers and only had about 1 teaspoon per dumpling. Therefore, I made about 28 gyoza total.
Dumplings: Chloe Coscarelli + Dipping Sauce: All-Recipes.com