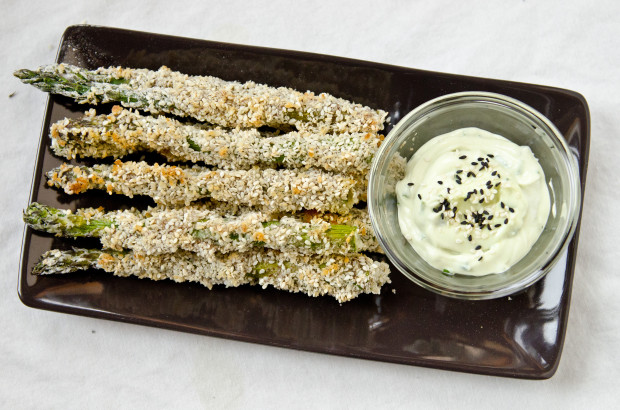 After 31 years, I have finally tried wasabi! Quite the accomplishment, I know! *haha* I'm not entirely sure how I've gone so long without trying it, but for some reason it never appealed to me. I do really enjoy Japanese cuisine (Vegetarian Gyoza and Vegetarian Yakisoba) , but am not too keen on sushi. *shock* I realize I am pretty much the only person on the planet who doesn't care for sushi, but I'm okay with that. I have a tendency to be a bit unique (ie. weird). Since sushi is generally a vessel for wasabi, I've never really had the opportunity to try it.  When I thought to make sesame-crusted asparagus fries, I decided to make a wasabi dipping sauce to serve them with, so I could finally try wasabi. Verdict – Wasabi is delicious! It's spicy with just the right amount of heat.
Asparagus fries coated in a crispy panko/sesame crust with a wasabi mayo dipping sauce. Yep! They ARE as delicious as they sound! These asparagus fries are super tasty and perfectly crispy. The sesame/panko coating really adds a lot of flavour and texture. Preparation takes approximately 10 minutes and then only 15 minutes to bake. And they are vegan! However, you could easily use 2 egg whites in lieu of the flax eggs and regular mayo instead of the vegan mayo if you so choose. I recommend giving the vegan version a try, as it definitely does not lack any flavour! To make the asparagus fries gluten-free, you can use gluten-free flour and gluten-free bread crumbs. These asparagus fries make a great side-dish for two or appetizer for a dinner party.
Sesame Asparagus Fries with Wasabi Mayo
Ingredients
Asparagus Fries Ingredients:

1 bunch of asparagus (about 16 spears)
1/2 cup of flour (gluten-free is fine)
2 tablespoons of ground flax mixed with 6 tablespoons of water (flax eggs)
1/2 cup of sesame seeds
1/2 cup of panko bread crumbs (or gluten-free bread crumbs)
1/4 teaspoon of salt
1/2 cup of vegan mayo
2 teaspoons of wasabi paste
1 teaspoon of sesame oil
1 tablespoon of fresh chopped chives
Method
Preheat oven to 425'F.
Mix together the panko crumbs, sesame seeds and salt.

Note:

I recommend using a mixture of black and white sesame seeds for contrast.
Wash asparagus well and pat dry. Trim off the woody ends of the asparagus.
Set out three plates - one with the flour, one with the flax eggs and one with the panko/sesame mixture. Dredge an asparagus spear in flour, followed by a quick dip in the flax egg mixture. Roll the asparagus spear in the panko/sesame mixture. Place asparagus spear on a wire rack on a baking sheet. Repeat until all of the asparagus spears are coated. Spray each spear with some cooking oil.
Bake asparagus for 13 to 15 minutes, or until crispy and golden brown.
While the asparagus fries are baking, mix together the mayonnaise, sesame oil, wasabi paste and chopped chives. Sprinkle with sesame seeds.
Serve asparagus fries warm with wasabi mayo.
Source: The Fig Tree – inspired by Canadian Living Appetizers (Sesame Shrimp with Wasabi Mayo)