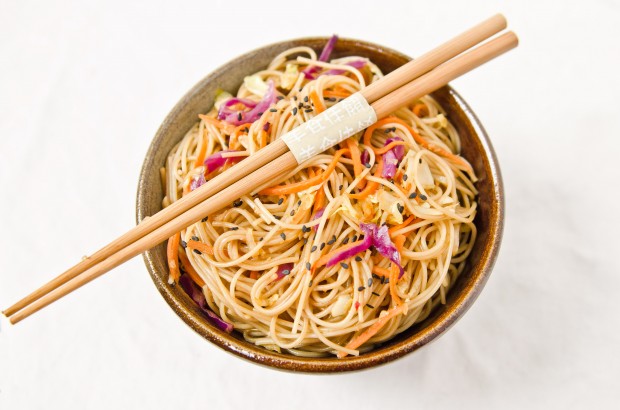 Today we are headed on a culinary adventure to Japan to learn how to make one of my favourite Japanese dishes – Yakisoba. Yakisoba is a Japanese noodle dish often sold as street food in Japan. Yakisoba literally translates to "fried noodles in sauce" and is derived from the Chinese dish chow-mein. Soba noodles are cooked with sautéed cabbage, shredded carrots and fresh ginger then mixed with a sauce of soy, rice wine vinegar, chile-garlic paste and sesame oil. Yakisoba is often sold with pork or beef, but veggies are the focal point of this dish. Feel free to add sprouts or even some broccoli slaw to the mix. Vegetarian Yakisoba is a great, quick dinner option for busy week nights or for a lazy weekend.
Visiting Japan is currently the number one item on my bucket list with visiting Iceland as a close second. For over 12 years, I've been studying the Japanese language and culture. I would not say I'm completely fluent, but I can get by in Japanese. I adore the language. I find it to be incredibly beautiful. I studied Japanese literature, culture and history in university. And well, I cannot wait to finally see and experience Japan (and visit my friends Miho, Nana and Yukiko) and explore the incredible country. In the mean time, I've been learning how to cook a variety of Japanese specialties and adapt them into vegetarian dishes. I truly feel like cooking different ethnic dishes can temporarily transport you around the world. Another Japanese speciality that I've recently made is Vegetarian Gyoza – and they were fantastic!
Cultural Note: In Japan, one says "itadakimasu" before a meal to give thanks for the meal. It is to express gratitude for the person who has prepared the food. It's similar to saying grace in Western culture. "Kanpai" is the Japanese equivalent of "Cheers!"
Ingredients
12 ounces of uncooked soba noodles (or vermicelli noodles broken in half)
1/4 cup of low-sodium soy sauce
1/4 cup of rice wine vinegar
1 tablespoon of sugar
1 tablespoon of chile-garlic paste
2 teaspoons of sesame oil
1 and 1/2 tablespoons of canola oil
1 tablespoon of freshly grated ginger
1 small white onion, thinly sliced
4 cups of shredded cabbage (such as napa or savoy); or mixed bagged cabbage
2 carrots, peeled and shredded
sliced scallions for garnish (optional)
1 tablespoon of black or white sesame seeds
Method
Bring a large pot of water to a boil. Cook the soba noodles for 2 minutes or vermicelli for 4 minutes. Drain and rinse quickly in cold water, so that the noodles do not stick together.
In a small bowl, combine the soy sauce, rice wine vinegar, sugar, chile-garlic paste and sesame oil. Set aside.
Meanwhile, heat oil in a large frying pan over medium-high heat. Add sliced onions to the pan. Cook until onions are translucent (about 5 minutes). Add ginger and sauté for 2 minutes.
Add cabbage and shredded carrots to the frying pan. Cook on low-medium heat for about 5 minutes.
Add soba or vermicelli noodles to the frying pan. Add prepared sauce. Toss noodles, sauce, cabbage and carrots to mix well. Cook another 2 minutes.
Serve with sliced scallions and sesame seeds.
Source: loosley adapted from Sue Lau on Food.com