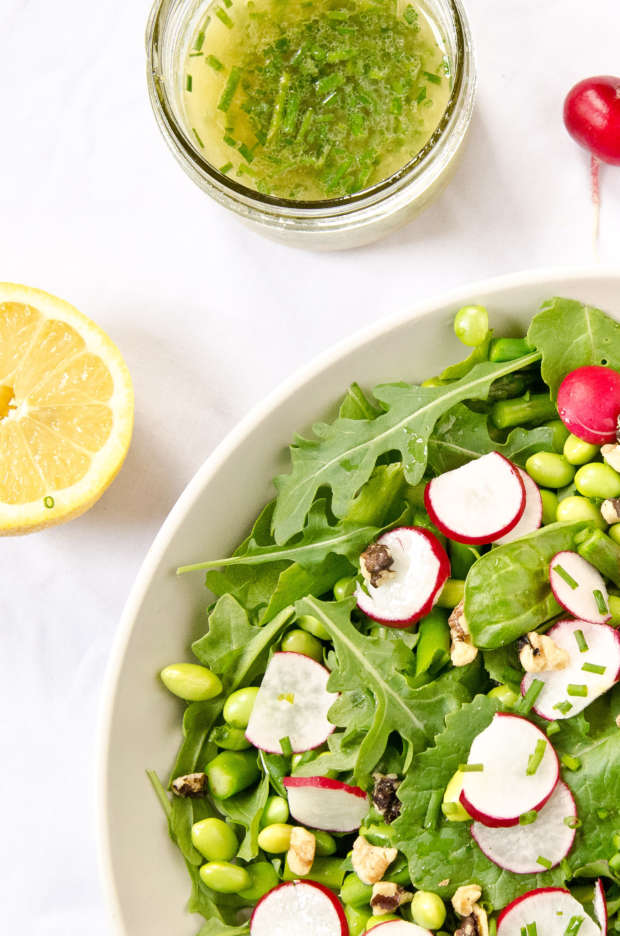 Sometimes all I crave in a huge salad filled with delicious greens, crunchy vegetables and a simple vinaigrette. This is especially so after a long winter filled with heartier meals of chili, stew and lots of carb-centric pasta dishes. As much as I love a good bowl of pasta, the warmer weather has me craving lighter fare. In early spring, radishes and chives are at their best. Asparagus is also a spring-time favourite. In celebration of spring, I decided to combine all of my favourite spring veggies into one heaping meal-sized salad. To keep things fresh and light, I opted for a lemon chive vinaigrette with a touch of Dijon mustard.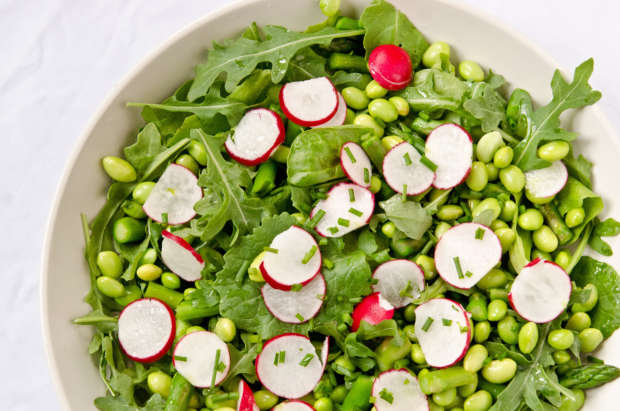 To boost the protein content of the salad, I opted for shelled edamame in lieu of the more commonly used spring vegetable – peas. I love the creamy texture of edamame, but feel free to sub peas if that tickles your fancy. The arugula adds a nice spicy/peppery element to the salad. I balanced this out with some cool, refreshing, crisp radishes and a mixture of baby kale. Toasted walnuts round out this delicious spring salad, but feel free to use sunflower seeds, pumpkin seeds or even some toasted hazelnuts. To increase the nutritional content even more, you could sprinkle on some hemp hearts. Yum!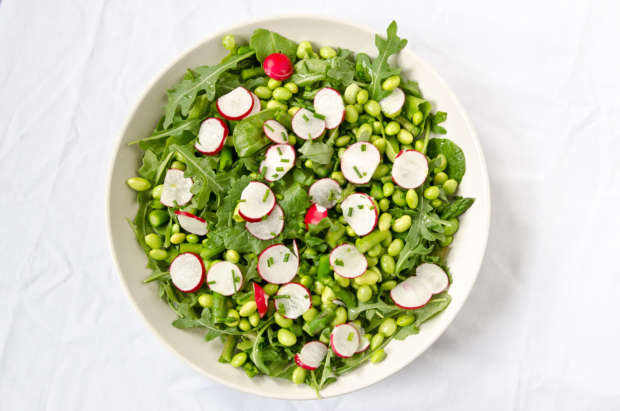 In other non-salad related news, I am finally done working 3 full months of overtime hours at work. Thank goodness! The longer hours definitely cut into my time in the kitchen! As of this week, I am on vacation for a few days to recoup. I am off to visit with some wonderful friends today and tomorrow an hour outside of the city. I'm really looking forward to getting out and about to enjoy the nice weather and be around great friends. Tomorrow evening, I am heading to a comedy show for the Winnipeg Comedy Festival. Can't wait. I love a good belly laugh. And this weekend I am spending time with family :) All-in-all…I've got a great vacation planned! What do you have planned for the weekend?
Spring Salad with Lemon Chive Vinaigrette
Spicy arugula and crispy radishes combined with creamy edamame and toasty walnuts in a lemony chive vinaigrette. The perfect way to celebrate Spring and the coming warm weather.
Ingredients
Lemon Chive Vinaigrette Ingredients

Juice of one lemon
1/4 cup of avocado oil or extra-virgin olive oil
1/4 teaspoon of fine sea salt
1 heaping teaspoon of Dijon mustard
1 teaspoon of maple syrup
2 tablespoons of finely chopped chives
1 cup of frozen shelled edamame
10 asparagus spears, woody ends trimmed off, cut into pieces
2 cups of arugula, washed and dried
2 cups of baby kale, washed and dried
8 radishes, thinly sliced
1/2 cup of walnut pieces, toasted
Method
Combine all vinaigrette ingredients in a jar and shake well. Set aside.
In a small saucepan, bring 3 cups of water to a boil. Add in the edamame and asparagus pieces. Reduce heat to a simmer. Cook the edamame and asparagus for 3-5 minutes (or until asparagus is slightly tender). Drain and rinse well with cold water to stop the cooking process.
Toast walnuts in a dry frying pan on medium heat for about 3 minutes, or until walnuts become fragrant.
In a large salad bowl, toss together the arugula, baby kale, sliced radishes, edamame, asparagus and toasted walnuts. Drizzle half of the lemon chive vinaigrette overtop and toss well to coat. Additional dressing can be added as desired.
Source: The Fig Tree