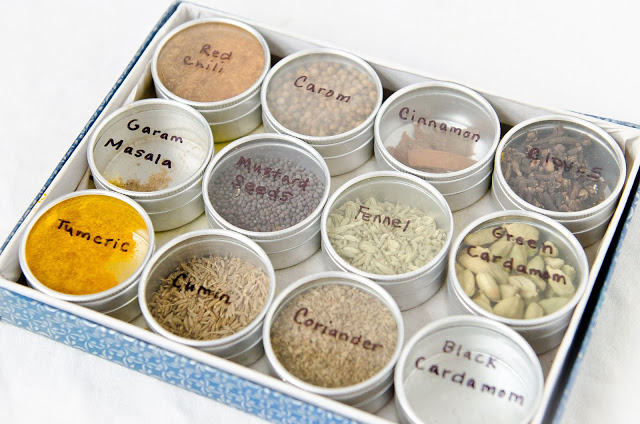 Last week I posted a recipe for my favourite East Indian dish –
Navratan Korma
. In the post, I mentioned that I had taken a fantastic vegetarian East Indian cooking course a few years back where we made a number of dishes and learned about a variety of spices and herbs. My teacher had also given all of the students a beginner's spice kit to get us all started with East Indian cooking at home. After last week's post, a few people contacted me with interest in knowing what was in the beginner's spice kit put together by my teacher. So, without further ado, here are the 12 most commonly used spices in East Indian cooking. For those of you just getting into creating curries at home, these 12 spices will allow for unlimited creativity in the kitchen. Many of these spices can be used in Middle Eastern and African cooking as well.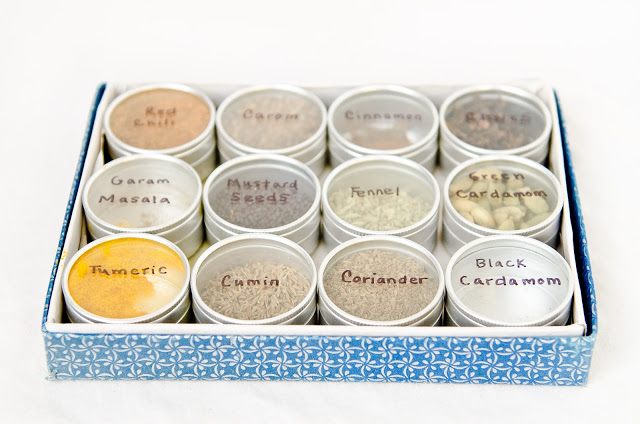 Indian Spice Starter Kit
1. Red chili (such as cayenne pepper)
2. Carom seeds (Ajwain seeds)
3. Cinnamon sticks or ground cinnamon
4. Clove buds or ground cloves
7. Green Cardamom pods or ground green cardamom 
8. Turmeric (yes, I spelled it wrong on the jar lid…haha)
9. Cumin seeds or ground cumin
10. Coriander seeds or ground coriander
11. Black Cardamom or ground black cardamom
Fresh ginger and garlic are also key to a well-stocked starter kit. I always buy ginger and garlic fresh when I am planning on creating an Indian dish, but you can use ground ginger and ground garlic if you prefer. 
Carom (Ajwain seeds) have a similar flavour as thyme. In a pinch, thyme can be used in its place. If you use cardamom pods, you just have to break them open and grind the smell seeds inside. Mustard seeds, fennel seeds and cumin seeds need not be ground. However, for optimal flavour, make sure to toast the spices. Cinnamon sticks should be removed from your dish before serving.
Garam Masala is a blend of ground spices common in North Indian cuisine. It is a blend of spices that varies from family-to-family and region-to-region. Spices are toasted and ground together. A typical Garam Masala contains black + white peppercorns, cloves, cinnamon, cumin seeds and black + green cardamom pods. Garlic and ginger may be added as well. According to Wikipedia, the key to a good Garam Masala is balance, so that not one spice overpowers the entire mixture.
You can find all of these spices in any well-stocked grocery store or ethnic food store. Be sure to buy a quality garam masala to ensure your dishes have maximum flavour. Different blends of garam masala can be quite spicy. So, I always recommend adding 1/2 teaspoon of garam masala to your dishes at the end of cooking and then adjust as needed. Also, make sure to have relatively fresh spices on hand. You can purchase whole spices and grind them yourself for optimal flavour. To grind spices, you can use an old coffee grinder, a spice grinder or a mortar + pestle. If you cannot grind them yourself, using fresh pre-ground spices will do the trick as well. 
Note: I find spices stay fresh for up to 6 months in a dark, dry cupboard.