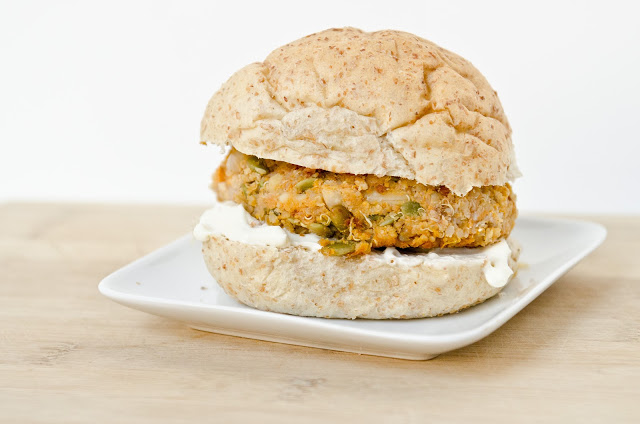 Welcome to week two of Vegan Tuesdays! So glad you stopped by again this week to see what I have to share. I definitely think you'll love this recipe! :) It's perfect to bridge the gap between summer and fall.
And so my quest for the perfect homemade veggie burger continues. Next up, this delicious vegan fall-inspired butternut squash nut burger. These burgers were fantastic and included a number of my favourite things – namely butternut squash, quinoa and pumpkin seeds. Yum! 
A few years back, I tried this burger for the first time at a great local restaurant called Fresh Café. I was smitten and went back a number of times over the past few years to curb my yummy-veggie-burger cravings.
 Recently, I was flipping through a local food magazine called Ciao! and I noticed my beloved veggie burger recipe was included in the magazine! 
With this awesome recipe in mind, I headed to the local Farmer's Market this past weekend to load up on butternut squash. Side Note: I very much went overboard at the Farmer's Market this past weekend and now have a ton of fresh produce to cook with this week! Weeee! :) Anyhoo, after the Farmer's Market, I headed home to test out the recipe with very high expectations. And, thankfully, the recipe did not disappoint! The burgers tasted just like the ones I love from Fresh Café. And they were really easy to put together. 
The burgers are soft without being too mushy. And I loved all of the yummy seeds and nuts in the burger.
Unlike some veggie burgers, these stayed together very well. And the roasted garlic aioli was delicious and the perfect topping for these burgers. I also topped the burgers off with some fresh tomato slices. Jesse added a bit of dijon mustard to his burger. He said it was extra delicious! 
Hope you all had a wonderful weekend. Mine was quite nice! Friday, we celebrated our friend Michelle's birthday at a local South American Steak House called Hermanos. I know, I know…vegetarians at a steak house makes no sense! But they offered delicious vegetarian empanadas :) So I was a happy camper! Saturday, I met a friend at a local pub for some lunch and a nice chat. Saturday, Jesse and I met his family for an amazing meal at La Fiesta – an El Salvadorian restaurant. I tried pupusas for the first time and now I'm obsessed. Wow! Incredibly tasty. If you live in Winnipeg, I highly recommend La Fiesta. Just make sure to make a reservation. It's one busy place! Awesome food and fantastic service. Sunday, Jesse, my friend Paul, my dad and I attended a football game…and my team lost again. Thankfully, the final score was a lot better than last week's 0-52 blow out! *phew*
I'll be back on Thursday with another yummy vegan post :) Have a fantastic Tuesday! And Wednesday for that matter. xo
Ingredients
1 large butternut squash, peeled and diced into 1/2 inch pieces

1-540 ml can of white kidney beans, drained and rinsed

1/4 cup of uncooked quinoa; rinsed

1/2 cup of water

1 shallot, minced

1 clove of garlic, minced

1 cup of pumpkin seeds

1 cup of chopped walnuts

pinch of cayenne pepper

salt and pepper to taste

1 cup of whole wheat bread crumbs (or gluten free bread crumbs)

12 whole wheat burger buns (or gluten free burger buns)

Roasted Garlic Vegan Aioli (recipe to follow)
Garnish: sprouts, finely sliced red onion, dijon mustard, tomato slices
Roasted Garlic Vegan Aioli
1 block of soft tofu, drained of excess water

1 head of garlic, roasted

2 tablespoons of cider vinegar (or 1 tablespoon of fresh lemon juice)

1/4 cup of olive oil

salt and pepper to taste
Method: Prep
1. Roast the Garlic: Preheat oven to 350'F. Slice the top off of the head of garlic. Place garlic in a pocket of tinfoil. Drizzle with olive oil and sprinkle on some salt. Pinch the tinfoil around the garlic leaving a little bit of room for steam. Place garlic in oven and allow it to roast for about 35 minutes, or until soft. Remove from oven and allow to cool.
2. Cook the Butternut Squash: In a large saucepan, bring 6 cups of water to a boil. Add the butternut squash and reduce to low. Cook the squash until it is tender (about 15 minutes). Drain and set aside. 
3. Cook the Quinoa: While the squash is cooking, bring 1/2 cup of water to a boil in a small saucepan. Add the quinoa, cover and simmer on low for 15 minutes. Remove from heat and set aside.
Method: The Burgers
1. In a mixing bowl, smash the cooked butternut squash, white kidney beans and quinoa together using a potato masher. Using a wooden spoon, mix in the shallots, garlic, walnuts, pumpkin seeds, cayenne pepper, salt and pepper. 
2. Add bread crumbs as necessary until the mix holds together well. Mould bits of the mixture into patties about the size of a hockey puck (can you tell I'm Canadian? *hehe*). You will get about 12 patties from this recipe.
3. In a large skillet, heat 1 tablespoon of oil over medium-high heat. Make sure to spread the oil around the entire pan to ensure even cooking. Place patties onto the skillet and pan-fry the burgers for about 4 minutes per side (or until the sides are crispy and the burgers are cooked through). Note: I added a bit more oil between each batch to ensure even browning.
Method: The Aioli
1. Remove the roasted garlic cloves from the skin. Mash well with a fork.
2. Using a blender or food processor, mix the mashed roasted garlic, tofu, vinegar, olive oil, salt and pepper until smooth.
Serve each butternut nut burger on a toasted whole wheat bun. Slather on some of the delicious roasted garlic aioli. Top with some fresh tomato slices and some sprouts. Add dill pickles for good measure.
Yield: 12 veggie burgers
Source: Fresh Café in Winnipeg, Manitoba