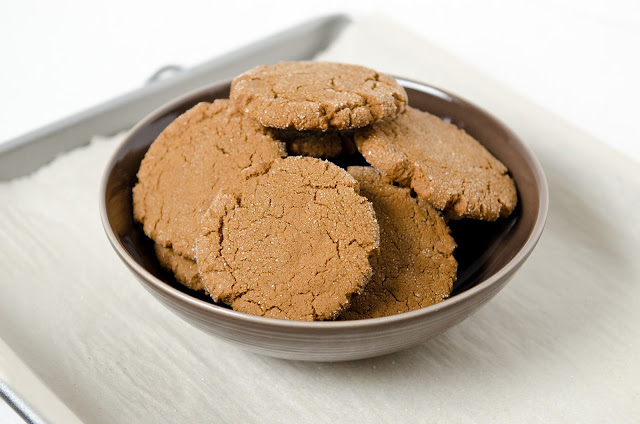 Fall has arrived abruptly here on the Canadian Prairies this weekend. The air is very cool and crisp. The winds are blowing and the sun has yet to make an appearance from behind the clouds. I'm bundled up in a very cozy hoodie, sipping on tea and enjoying a spicy gingersnap cookie. And I feel happy. Sure, the chilly weather and winds were a bit of a pain at the farmer's market this morning. But coming home to cuddle up with some blankets, brew a pot of tea and devour some cookies was the perfect reward for spending time out in the chilly weather. Gingersnaps seem like the perfect fall treat. Delicious cinnamon combined with spicy ginger and a hint of molasses conjure up so many memories of fall. 
I know that gingersnap cookie recipes are a dime a dozen online. However, I wanted to share with you my very favourite gingersnap recipe. Over the years, my mom has made many a gingersnaps, but they've never been my favourite. I'd take a chocolate chip cookie over a gingersnap cookie any day! However, last fall, my mom made these for the first time and I was hooked. They are perfectly spicy, wonderfully soft and deliciously chewy. They are an ideal companion for a hot cup of tea. And the best part of all – baking a batch or two is incredibly easy. And on a day like today, baking is the perfect way to pass the time. I may have to make another batch tomorrow. These cookies disappear quickly!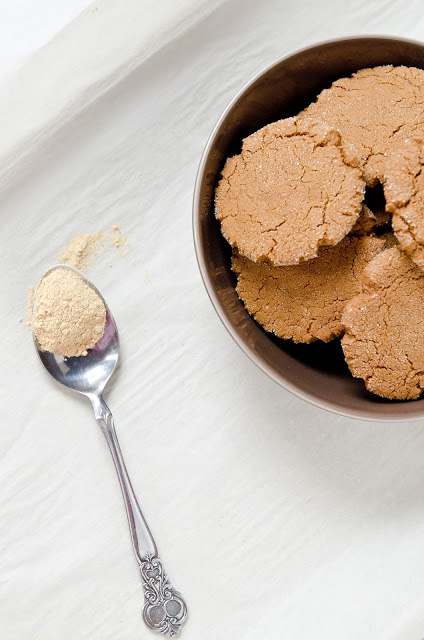 Ingredients
1/2 cup of unsalted butter, at room temperature

3/4 cup plus 2 tablespoons of white sugar

1 large egg, at room temperature

3 tablespoons of fancy molasses

2 cups of all purpose flour

1 tablespoon of ground ginger

1 and 1/2 teaspoons of baking soda

1/2 teaspoon of ground cinnamon

1/4 teaspoon of kosher salt

3 tablespoons of white sugar

3/4 teaspoon of ground cinnamon

Method
1. Heat oven to 350'F. Line two cookie sheets with parchment paper.
2. In a medium bow (or with your stand mixer), beat the butter and sugar until smooth and creamy. Add the egg and molasses, one at a time, beating well between each addition. Scrape down the sides of the bowl.
3. Place flour, ginger, baking soda, cinnamon and salt in a separate bowl and mix well. Add to the butter mixture and beat until everything is well incorporated. Scrape down the side of the bowl again and beat one more time.
4. On  small plate, combine the 3 tablespoons of sugar and the 3/4 teaspoon of ground ginger. Break off small pieces of dough and roll into 1 inch balls. Roll the cookie balls in the ginger/sugar mixture. Place each sugar coated cookie ball on the prepared cookie sheets – 2 inches apart. Using a glass cup, press down on each ball until nicely flattened. Note: If cup sticks to dough, dip the bottom of the glass in the sugar mixture.
5. Place one cookie sheet in a 350'F oven and bake cookies for 12 minutes. Cool cookies on sheet then transfer to a wire cookie rack. Repeat with second sheet of cookies.
Yield: 24 to 30 cookies (12 larger cookies on each sheet or 15 smaller)
Source: Mom (originally from Family Circle September 2011)