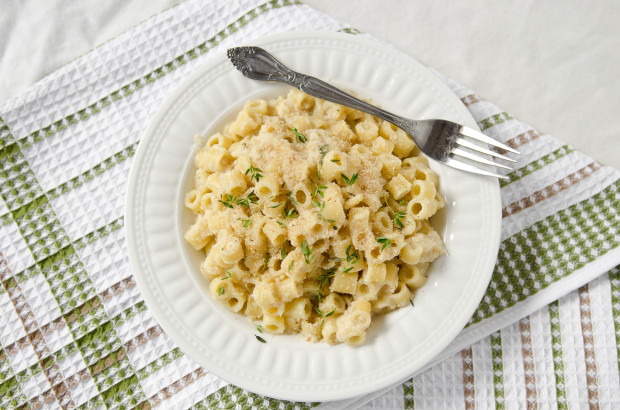 I'm back….finally…and with a real winner of a recipe! A macaroni and cheese recipe in fact! A really, really delicious macaroni and cheese recipe loaded with roasted cauliflower and onions. This is an easy recipe to put together but tastes extra fancy. Pop the cauliflower and onions into an oven and roast for 30 minutes. Purée the veg, add some cheese, some seasoning and some dry sherry (optional). Toss with your favourite small shaped pasta and you've got a really classy dinner on your hands.
The beauty of this macaroni and cheese is that it is loaded with cauliflower and a minimal amount of cheese. Greek yogurt or low-fat sour cream keep this recipe low-fat, but still nice and creamy. It can also easily be made vegan with the use of Daiya Swiss cheese and dairy-free yogurt.  Use whole wheat pasta for extra fibre. A delicious, healthier spin on macaroni and cheese!
Hope you are all doing well and had a nice summer! I've missed you and I've missed blogging – A LOT!!!  Jesse and I are just finalizing our wedding plans and will be heading to the alter in mid-October. It's coming so quickly! Looking forward to sharing details with you soon :)
Roasted Onion & Cauliflower Mac n Cheese
Ingredients
1 medium head of cauliflower, chopped
1 large onion, sliced
2 cloves of garlic, minced
1 tablespoon of Dijon mustard
2 tablespoons of olive oil, divided
1/2 tablespoon of white wine vinegar
1 cup of fresh bread crumbs
1 and 1/2 tablespoons of fresh chopped thyme, divided
salt and pepper to taste
1 pound of macaroni pasta
1/4 cup of dry sherry (or apple juice)
2 cups of vegetable broth
1/2 to 1 cup of shredded Swiss cheese (or Daiya Swiss)
1/2 cup of plain Greek yogurt or low-fat sour cream (or dairy-free yogurt)
Method
Preheat oven to 425'F. Place cauliflower and sliced onions in a medium bowl.
In a small bowl, combine the minced garlic , Dijon mustard and white wine vinegar with 1 and 1/2 tablespoons of oil. Season with salt and pepper. Drizzle mixture over the cauliflower and sliced onions and toss well to coat. Transfer vegetables to a rimmed baking sheet lined with parchment paper (for easy clean-up). Roast cauliflower and onions for 30 to 40 minutes, or until tender and slightly browned.
Meanwhile, in a small bowl, toss the bread crumbs with remaining 1/2 tablespoon of olive oil, 1/2 tablespoon of fresh thyme, salt and pepper. In a large saucepan over medium-high heat, toast to a golden brown. Set breadcrumbs aside in a small bowl.
In a large pot of boiling water, cook the pasta until al dente. Drain and set aside.
Transfer roasted cauliflower and onions into a blender with sherry and vegetable broth. Blend until smooth. Note: You can also use a hand immersion blender for this. Just be careful not to blend a liquid that is still very hot.
Pour the cauliflower onion purée into the large saucepan. Bring to a simmer then add the Swiss cheese, other 1/2 tablespoon of fresh thyme and sour cream or Greek yogurt. Season with salt and pepper if desired. Note: if you like really cheesy mac n cheese, be sure to use 1 cup of Swiss cheese instead of 1/2 cup.
Stir pasta into sauce and heat through. Garnish with bread crumbs and serve.
Notes
Source: adapted from Fresh Juice Magazine (October 2013)