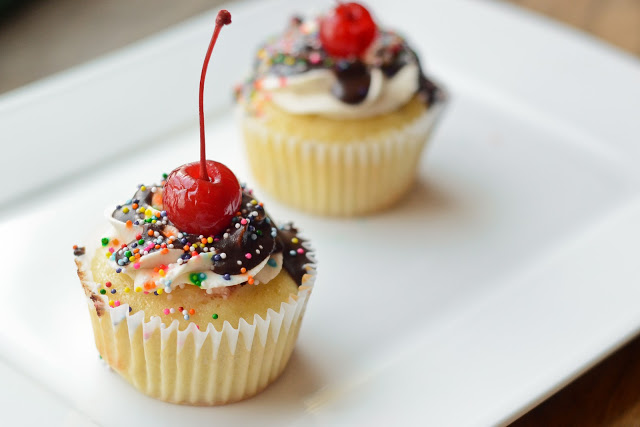 This past weekend, my good friend Paul hosted the the 6th Annual Cake N Shake. It's an awesome party that he's put on for the past six years where he serves many delicious homemade milkshakes and everyone eats cake until the feel sick from all of the sugar. It's awesome! Many people bring cakes; cakes of all kinds. This year there was a cherry cheesecake and a sex-in-a-pan cake. And delicious vanilla cupcakes with chocolate buttercream. Some people just make a small monetary donation at the party, so they can pig out and partake in all the cake eating! 
This year, my friend Paul asked me to bring cupcakes. Last year I brought pink lemonade cupcakes and pineapple amaretto cupcakes. And since he loved the cupcakes I brought last year, he had a special request that I bring cupcakes this year. Since I was itching to get into the kitchen and bake, I agreed to bring cupcakes and decided upon making Banana Split Cupcakes. I've wanted to make them for quite sometime, but knew they'd be pretty time consuming. But what better opportunity to make such involved cupcakes than an actual cake party? :)
I really loved these cupcakes. There were so many layers of flavour. The banana cake itself was delicious. To be honest, I ate a few of the cupcakes prior to decorating any, simply because the banana cake was so tasty! *hehe* The strawberry and pineapple filling was really nice. And I'm a sucker for whipped cream icing, so I greatly enjoyed the topping. 
The Cake n Shake party was a blast. There was an impromptu sing-a-long, lots of great conversation, lots of lovely new people to meet and an abundance of sugar & lots of laughs. As for me, I'm on a vegetable only diet this week to make up for the crazy amount of cake I consumed on Saturday. *hah* But hey, everyone should indulge in delicious cakes every so often. Or, that's what I'm telling myself….*haha*
Cake Ingredients
2 and 1/2 cups of all-purpose flour

1 tablespoon of baking powder

1/2 teaspoon of salt

12 tablespoons of unsalted butter; at room temperature

2 and 1/2 cups of sugar

6 eggs

1 cup plus 2 tablespoons of buttermilk

1 and 1/3 cup of mashed ripe banana (about 3 bananas)
Filling Ingredients
15 strawberries; hulled and diced small

2 tablespoons of icing sugar

12 ounces of crushed pineapple; drained well
Frosting Ingredients
1 and 1/2 cups of whipping cream/heavy cream (35%); chilled

1/3 cup of icing sugar; sifted

1/2 teaspoon of pure vanilla extract
Ganache Ingredients
8 ounces of bittersweet chocolate; chopped

1 cup of heavy cream

1 tablespoon of light corn syrup
Garnish
multi-coloured sprinkles

maraschino cherries; with stems
Method
1. Pre-heat oven to 350'F.
2. Cupcakes: Line cupcake pans with paper liners. In a medium bowl, combine the flour, baking powder and salt. Whisk together and set aside. Using an electric mixer, cream together the butter and sugar on medium-high speed until the mixture is light and fluffy (about 2 minutes). Reduce the mixer speed to medium low and add eggs in one at a time. Scrape down the sides of the bowl as you go. Mix in the mashed banana. With the mixer on low speed, alternately add the dry ingredients and buttermilk, beginning and ending with the dry ingredients and mixing only until just incorporated. Divide the batter between the prepared cupcake liners; filling each about 2/3 to 3/4 full. Bake until a toothpick inserted in the centre comes out clean (or with a dry crumb); about 20 minutes. Allow to cool in the pan for 5 minutes and then transfer to a wire rack to allow to cool completely.
2. Strawberry Filling: Combine the strawberries and icing sugar in a small bowl. Toss well and smash the berries with a fork. Allow the berries to macerate at least 20 minutes.
3. Fill the Cupcakes: Cut a small cone out of the centre of each cupcake with a pairing knife. Note: the excess cake can be discarded. Add a teaspoon of the strawberry filling to the centre of each cupcake. Top with a teaspoon of crushed pineapple. Note: make sure to only fill to the top of the cupcake.
4. Whipped Frosting: Add the heavy cream to the chilled bowl of an electric mixer fitted with a whisk attachment. Whip on medium-high speed until soft peaks form. Add the icing sugar and continue to whip until thoroughly combined and stiff peaks forms. Be careful not to over-beat the icing! Blend in the vanilla.
5. Ice the Cupcakes: Add the whipped cream to a pastry bag with desired tip. Pipe a swirl of the whipped cream onto each filled cupcake. Note: you want to make sure you pipe the icing to cover the filling. Transfer the filled and frosted cupcakes to the fridge and chill for at least 30 minutes.
6. Ganache: Place the chopped chocolate in a heatproof bowl. Bring the cream to a simmer over medium-high heat. Note: Make sure you watch the cream closely, so it does not burn. Remove the cream from the heat once it's quite hot and pour the cream over the chocolate. Allow to stand for 2 minutes. Whisk together until a thick, smooth ganache forms. Blend in the corn syrup. Let stand until room temperature (at least 10 minutes).
7. Final Touches: Pour a spoonful of cooled ganache over the whipped cream topping on each cupcake. Garnish with colourful sprinkles and a maraschino cherry before the glaze sets. Chill cupcakes until ready to serve.
Source: Annie's Eats