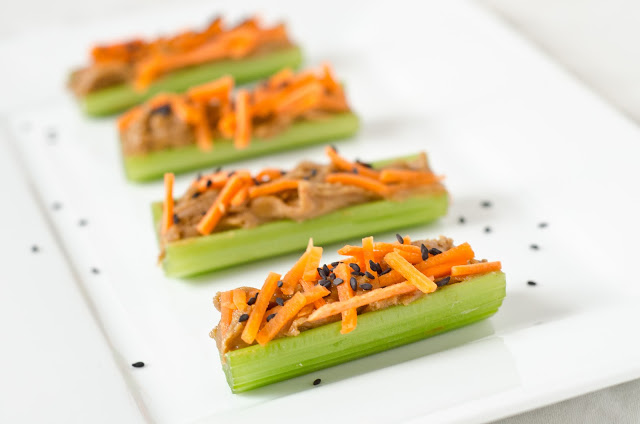 After filling up with WAY too much chocolate this past weekend, I thought I would opt for some healthy snacks today. I started the day off with some delicious honeydew melon, followed by some yogurt with walnuts, blueberries and hemp hearts. Later, I made a batch of these yummy thai peanut satay celery sticks for my afternoon snack. They are perfect for snacking, as they have sweet, salty and savoury covered – a great way to enjoy thai flavours with little work. These fancy celery sticks are also ideal as an appetizer for your next party or potluck. 
Hope you are all having a great week so far :)
Ingredients
1/2 cup of natural creamy peanut butter

2 tablespoons of fresh lime juice

4 teaspoons of sweet chile sauce (plus more for dipping)

1/2 teaspoon of toasted sesame oil

1/2 teaspoon of ground ginger

2 teaspoons of low-sodium soy sauce

10 large celery stalks; each cut into 3 sticks

2 large carrots; peeled and finely grated (approx. 1 cup)

1/4 cup of black sesame seeds
Method
1. Stir together the peanut butter, lime juice, sesame oil, chile sauce, ground ginger and soy sauce in a bowl until smooth.
2. Spread 1 teaspoon of the peanut butter mixture inside each celery stick.
3. Stir together the grated carrot and sesame seeds in a shallow dish. Dip the celery sticks into carrot mixture, peanut butter side down, to coat the filling with carrots and sesame seeds.
Serve with a small bowl of sweet chile sauce for dipping.
Yield: 30 celery sticks
Source: based on recipe from Vegetarian Times Magazine (April/May 2012)