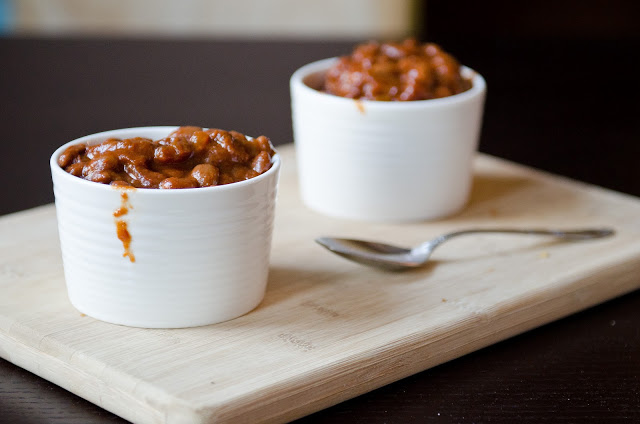 As I have mentioned before, I was an incredibly picky eater as a kid. My poor mom had to contend with me not only avoiding most meat products, but also with me avoiding a lot of fruits and vegetables. She was always worried about me not getting enough protein. She would often feed me yummy peanut butter sandwiches, which I loved – unless she tried to be sneaky and put the peanut butter on whole wheat bread. *hah* I used to HATE whole grains. Thank goodness time has changed that. Another way mom would ensure I was getting enough protein was to serve me baked beans with dinner. I love them and I still do. There's really nothing special about them, but they are hearty and remind me of being a kid. 
A few weeks back, my family and I decided to have a picnic/BBQ at our favourite local park. I decided it would be fun to bring a pot of delicious homemade baked beans to serve along side our veggie dogs/burgers. I went out and bought all of the ingredients to make the baked beans and thought I would make them an hour or so before the BBQ. This way they'd still be pipping hot! The recipe said to cook the beans for 45 minutes. Or…so I thought!!! While reading the recipe, I neglected to notice that after cooking the beans for 45 minutes…you BAKE them for 3 hours at a low temperature in the oven. Oops!!! Clearly I do not understand the concept of BAKED beans. *HAH* When I showed up at the BBQ, everyone was so disappointed that I did not bring these delicious maple baked beans. But they all had a good laugh at my expense :) I'll have to make it up to them and make them for our next family function.
I finally got around to making these maple baked beans last week and they were awesome! So much better than the canned baked beans I had as a kid – although, I will always love those too. I realize the photo is not the prettiest. I mean, how does one dress up a plate of baked beans!? But they were extremely delicious, hearty and had wonderful flavours. They are truly perfect for fall. The fresh apples from the farmer's market combined with the delicious Canadian Maple makes for one awesome plate of beans. I really wanted to share this recipe with you, as Jesse and I really enjoyed these as a side dish. We served them with veggie dogs and a nice side salad. Plus, making baked beans at home means you can choose how sweet you'd like them and how much sodium you consume. As usual, homemade is better and so worth the effort! :) This is the perfect dish to bring to a late summer BBQ or potluck.
Ingredients
4-19 oz. cans of pinto beans; drained and rinsed

2 tablespoons of canola or vegetable oil

1 onion, diced

1 granny smith apple, peeled, cored and diced

2 cloves of garlic, minced

1 tablespoon of dry mustard

2 teaspoons of chill powder

1/2 teaspoon of salt

1 pinch of cayenne pepper (or regular black pepper)

2 cups of bottled tomato purée

1/3 cup of pure maple syrup

3 tablespoons of cider vinegar

2 tablespoons of fancy molasses

1 and 1/2 cups of water (or vegetable stock)
Note: You can use dried beans instead of canned if you prefer. If you choose to use dried beans, use 3 cups of dried pinto or navy beans. Soak them overnight in three times their volume of water. (Or, you can bring them to a boil, let them boil gently for 2 minutes, remove them from the heat and allow them to sit uncovered for an hour.) Then, before baking the soaked beans, simmer them at a low heat for 45 minutes. Drain and allow to cool.
Method
1. Preheat oven to 300'F. In a saucepan, heat oil over medium heat. Cook the onion, apple and garlic until the onion is softened (about 8 minutes). Add the mustard powder, chili powder, salt and cayenne pepper. Stir.
2. Stir in the tomato purée, maple syrup, cider vinegar and molasses. Bring to a boil. Reduce heat, cover and simmer for 10 minutes. Pour in the water or vegetable stock. 
3. In a large 16 cup (4L) casserole, combine the beans and the sauce. Cover and bake in 300'F oven for 2 hours. Uncover and bake for another hour, or until the sauce has thickened and the beans are well coated and soft. 
Perfect for a cozy fall dinner.
Source: Canadian Living Magazine Vegetarian Cookbook