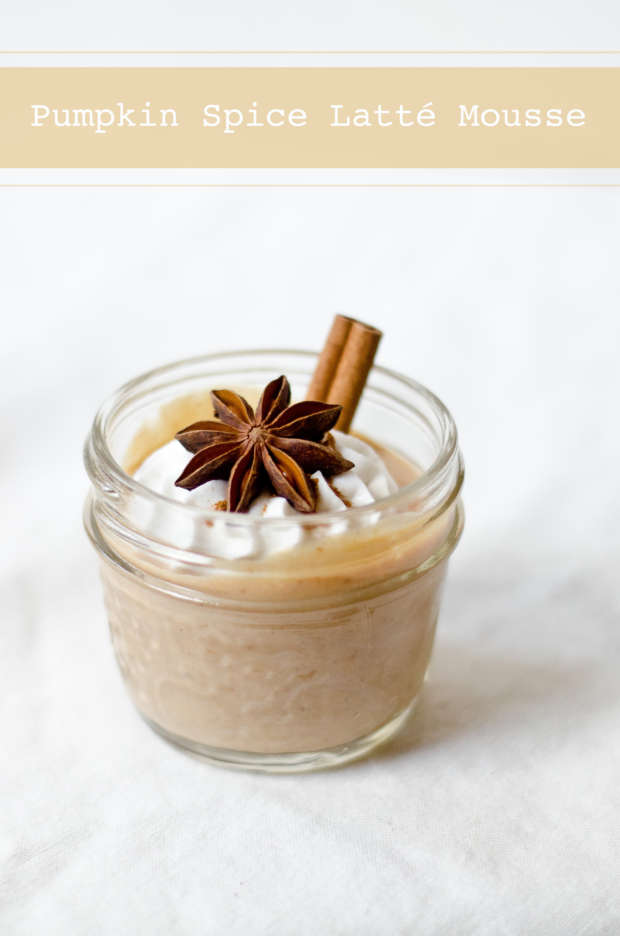 The leaves have started to change from a bright green to vibrant, fiery shades of red, yellow and orange. So pretty! And according to the calendar, it's officially fall. Do you know what that means!? It means that I can finally post pumpkin recipes on the blog. *hehe* Even though fall is my very favourite season, I like to hold onto the last bits of summer as much as possible. Winter on the Canadian Prairies can be quite harsh, so I like to savour summer – every last bit! To kick off fall on The Fig Tree today, I want to share a very special dessert inspired by the ever-so-popular "PSL". May I present to you…*drum roll*…Pumpkin Spice Latté Mousse!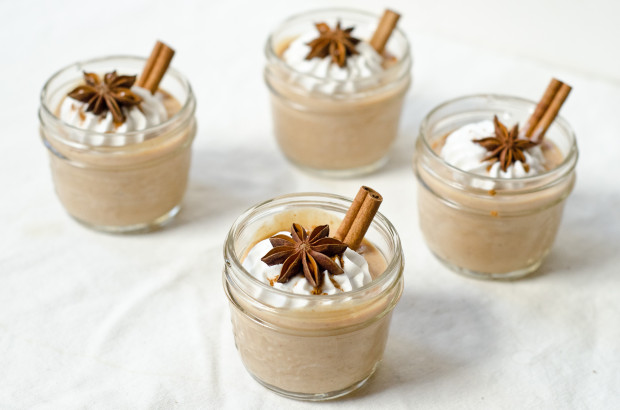 Earlier this year, I discovered that I have an allergy to dairy products. Since I've eliminated such products from my diet, my overall health has greatly improved. However, my sweet tooth has remained and constantly demands attention! When I decided to go dairy-free, I was worried that I would no longer be able to enjoy luscious, creamy desserts that would satisfy my needy sweet tooth. Over the past few months, I've learned how to make incredibly flavourful vegan desserts with a delightful, creamy texture. The trick? Silken tofu! Silken tofu can provide the most creamiest of bases for desserts without affecting flavour. Plus it's loaded with protein and is a low-fat alternative to dairy. Soy often gets a bad rap, but I like to enjoy it in moderation and always try to buy non-GMO.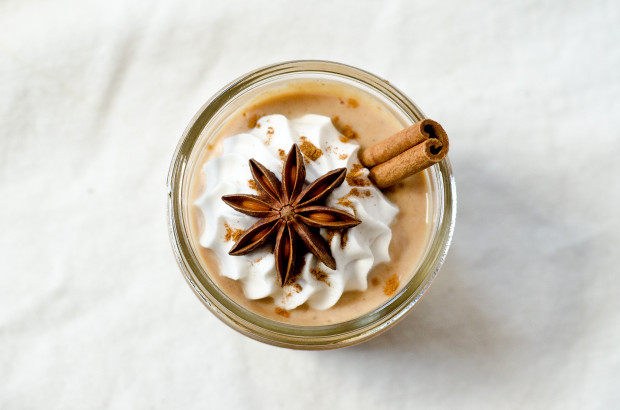 For this festive fall dessert, I've combined silken tofu, pure pumpkin purée, some pumpkin pie spice, and espresso powder. I've sweetened it up with pure maple syrup and poured the mousse into small mason jars and refrigerated them for about 6 hours to allow the mousse to set. Each mousse is topped with some whipped coconut cream and garnished with cinnamon sticks and star anise. The mousse is flavourful without being too heavy. And it's just sweet enough to make my sweet tooth happy. It's full of pumpkin flavour with a hint of coffee. If you love the taste of coffee, feel free to add more espresso powder. You could also just add in a tablespoon of strong-brewed coffee if you don't have any espresso powder available. This pumpkin spice latté mousse is the perfect way to celebrate the start of fall and pumpkin season!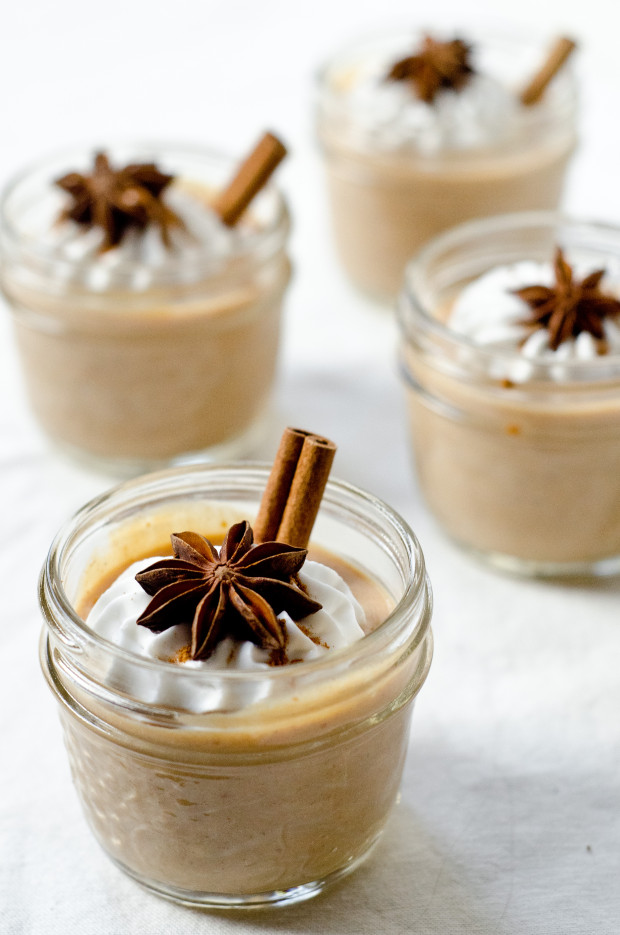 Pumpkin Spice Latté Mousse
A delicious, creamy coffee-infused pumpkin mousse without the diary! Sweetened with pure maple syrup and spiced with a combination of cinnamon, nutmeg and all-spice, this coconut whipped cream topped dessert will definitely impress friends and family alike.
Ingredients
1 package of silken (soft) tofu in aseptic package (such as Mori-Nu Silken Tofu)
1/2 cup of pure pumpkin purée (not pumpkin pie filling)
1/2 teaspoon of pumpkin pie spice
1/4 cup of pure maple syrup
1 teaspoon of espresso powder dissolved in 1 tablespoon of water
1-14 oz can of full-fat coconut milk, refrigerated for at least 12 hours
1/4 cup of confectioner's sugar
splash of pure vanilla extract
star anise and cinnamon sticks for garnish
Method
Combine the silken tofu, pumpkin purée, pumpkin pie spice, maple syrup and dissolved espresso powder into a blender. Blend until well combined.
Pour the mousse into small ramekins or mini mason jars. Refrigerate for at least 6 hours. The mousse will thicken up after some time in the fridge.
Before serving, whip the coconut milk, confectioner's sugar and vanilla on high with an electric mixer until thick and fluffy with soft peaks. IMPORTANT: 30 minutes before preparing the coconut whipped cream, place bowl and whisk attachment in the freezer. It's important that the coconut milk and the bowl & whisk are cold to allow for a thicker end result.
Scoop or pipe the whipped cream onto the top of each pumpkin mousse. Garnish with cinnamon sticks, ground cinnamon and/or star anise. Serve and enjoy!
Notes
The pumpkin mousse must be made in advance, as it must sit for about 6 hours in the fridge to firm up.
Source: The Fig Tree