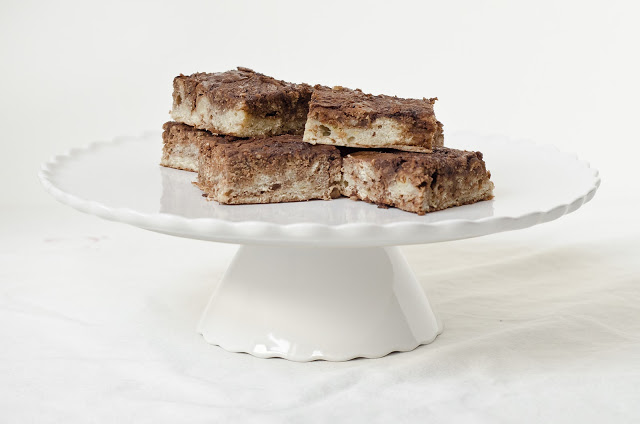 Last October, Jesse and I went to New York City for a fantastic 10 day vacation/adventure. During our trip, I dragged him to way too many food stores, kitchen gadget shops, restaurants, cafes and so so so many bakeries. I don't think he minded in the least, but he certainly likes to bug me about my obsession with food and cooking. One of the bakeries I dragged him to was Fat Witch Bakery in Chelsea Market. What a cool place! They serve every type of brownie you could possibly imagine. Row after row of delicious bars – lemon bars, coconut bars and the richest of rich chocolate brownies. Yum! 
For Christmas, I received the Fat Witch Brownies recipe book. This past weekend, we were stuck at home, as poor Jesse had his wisdom teeth out and was not really up to venturing around town. Seeing as I had a few bananas turning brown on the counter and a bit of time to myself, I decided to try making these banana bread brownies. They were delicious! A true blend of moist banana bread and rich chocolate brownies. Thankfully they were soft enough that Jesse was able to test one out too. I think he was tired of eating soup and ice cream all weekend. *hehe* The brownies were a welcome treat.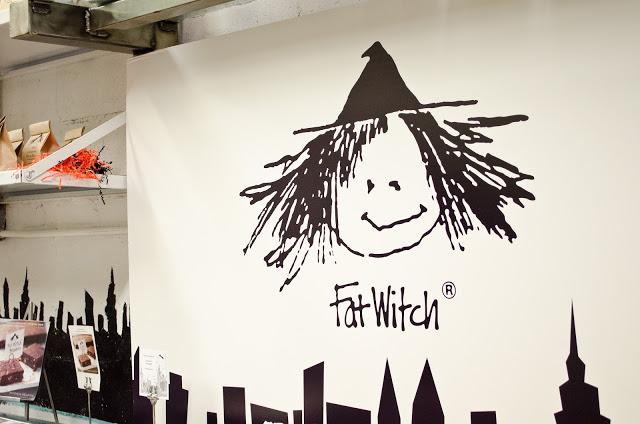 Hope you all have a fantastic week! :) I'll be back later this week with two new recipes, a give-away and an announcement regarding the blog. 
Ingredients
6 tablespoons (3/4 stick) of unsalted butter

3/4 cup of semisweet chocolate chips 

1 teaspoon of pure vanilla extract

1 and 3/4 cups of very ripe bananas, mashed (about 3 to 4 bananas)

1/2 cup of granulated white sugar

3 large eggs, slightly beaten

1 and 3/4 cups of unbleached white flour

1/2 teaspoon of salt

1 cup of coarsely chopped walnuts (optional)
Note: these brownies can be made vegan by substituting vegan butter, vegan chocolate chips and 3 flax eggs (or the equivalent of 3 egg replacers).
Method
1. Grease a 9 X 9-inch baking pan with butter. Dust with flour and tap out the excess. Preheat oven to 350'F.
2. Melt the butter and chocolate in a small saucepan over low heat, stirring frequently. Remove from heat once just melted and set aside to cool.
3. In another bowl, mix the vanilla and sugar into the mashed bananas with a fork. Add the beaten eggs and continue mixing until everything is well combined.
4. Measure the flour and salt and sift together directly into the banana batter. Mix until well combined. If desired, stir in the chopped walnuts.
5. Using a spatula, fold in two-thirds of the cooled chocolate mixture into the banana batter until it is just incorporated. Spread the batter evenly in the prepared baking pan. Drizzle the remainder of the chocolate mixture on the top. Move the spatula in and through the batter to create streaks of chocolate.
6. Bake for 30 to 35 minutes, or until a toothpick inserted in the centre comes out clean and/or only with dry crumbs. Remove from oven and cool on a rack for 1 hour. Cut just before serving.
Yield: 12 to 16 large brownies
Source: Fat Witch Brownies by Patricia Helding with Bryna Levin