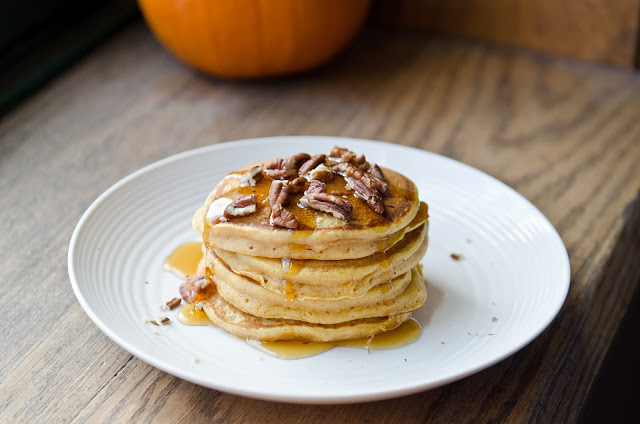 These delicious pumpkin spice pancakes have made me incredibly impatient. I was going to share the recipe next weekend, but I just cannot wait any longer. They are so yummy and must be shared ASAP!
I made these pancakes for Jesse and I this past Saturday morning. They were so easy to put together and filled our condo with the yummiest of smells – cinnamon, nutmeg, brown sugar and pumpkin. Mmmm! After we both ate our share of pancakes, we agreed that they were the best pancakes we've ever had. The may even trump our previous favourite – Coconut Macadamia Nut Pancakes. The spiced, slightly sweet pancakes made for the perfect breakfast on a cold fall morning. 
This morning, I made another batch of these delicious pancakes for a bunch of our friends. It seems as everyone loved them! It was so much fun to have a sit-down breakfast this morning with a bunch of our closest friends. We chatted, laughed, had some yummy mimosas and even danced a little. One of the best weekends I've had in a while topped off by one of the best breakfasts I've had in a while! I'm feeling pretty darn lucky :)
Hope you all had a wonderful weekend. And I hope you make these delicious pancakes soon and enjoy them as much as we did :)
I'll be back on Tuesday with the 4th instalment of Vegan Tuesdays. I'm extra excited, as I have a special guest post coming up this week! :)
Ingredients
1 and 1/4 cups of all-purpose flour

2 tablespoons of brown sugar

2 teaspoons of baking powder

1/4 teaspoon of salt

3/4 teaspoon of ground cinnamon

1/4 teaspoon of ground nutmeg

dash of ground ginger

1 cup of milk

1/2 cup of pure pumpkin purée

1 large egg

2 tablespoon of canola oil or melted unsalted butter

1/4 cup of toasted, chopped pecans

pure maple syrup for serving
Method
1. Preheat oven to 200'F (to keep pancakes warm).
2. In a medium mixing bowl, combine the flour, brown sugar, baking powder, salt and spices. Stir with a fork to combine well. 
3. Mix together the milk, pumpkin purée, egg and oil or butter in a large liquid measuring cup. Add the wet ingredients to the dry ingredients. Whisk together until just combined. Note: It's okay if the batter still has a few lumps.
4. Heat a greased skillet or frying pan over medium heat. Once the skillet is hot, add 1/3 cup scoops of batter to the pan. Let the pancakes cook until bubbles begin to form on the top surface. Carefully flip with a spatula and cook the second side until golden brown. Transfer the cooked pancakes to an oven safe dish and place in oven to keep warm. Repeat with the remainder of the batter. Note: Regrease pan as needed.
Serve with pure mail syrup and chopped pecans.
Yield: approximately 12 pancakes
Source: Annie's Eats (adapted from Martha Stewart)