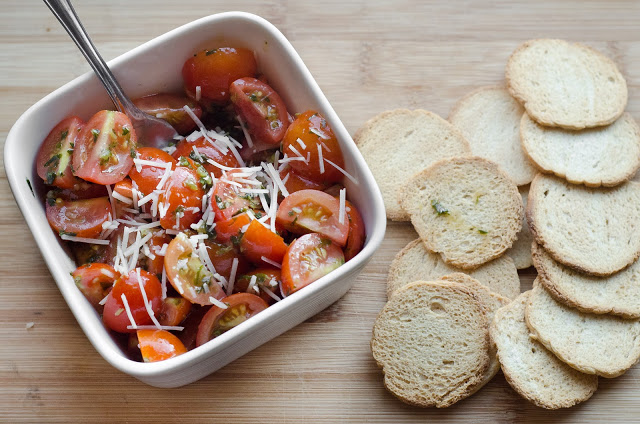 Over the holidays, I made a few batches of my favourite homemade bruschetta mix. I figured it would be nice to have on hand to serve on melba toasts if any people made a surprise visit during Christmas and New Years. I normally like to serve this mix with a cheese ball, so people can spread a little cheese on slices of baguette and top it off with the bruschetta mix. My go-to cheese ball is a basil infused goat cheese cheese ball with parmesan crust. It's delicious! Everyone loves this homemade bruschetta mix and I guarantee it will be a hit in your home too.
 I also really like to use this bruschetta mix in my Caprese Quinoa Salad. I made a batch of the Caprese Quinoa Salad for dinner tonight and will be posting the recipe next week.
Happy Friday everyone! :)
Ingredients
1 pint of cherry tomatoes; rinsed

1 clove of garlic; minced

1/4 cup of extra virgin olive oil

1 tablespoon of red wine vinegar

1/4 teaspoon of ground black pepper

1/2 teaspoon of salt

1 tablespoon of white sugar

a small bunch of basil; chiffonade

2 tablespoons of grated parmesan cheese (optional)
Method
1. Cut the cherry tomatoes in half. (note: if you are in a rush, you can put the cherry tomatoes in a food processor and pulse them 3-5 times until they are cut into small pieces). Place the cherry tomatoes in a medium bowl.
2. In a small bowl, whisk together the extra virgin olive oil, minced garlic, red wine vinegar, pepper, salt, and white sugar.
3. Add the dressing to the chopped tomatoes. Sprinkle the fresh basil over top of the tomatoes and toss. Add the grated parmesan cheese if using.
4. Store the mix in the fridge for at least an hour before serving to allow the flavours to combine & the garlic to mellow out.
Serve on melba toasts or slices of baguette.
Source: Courtney Jones