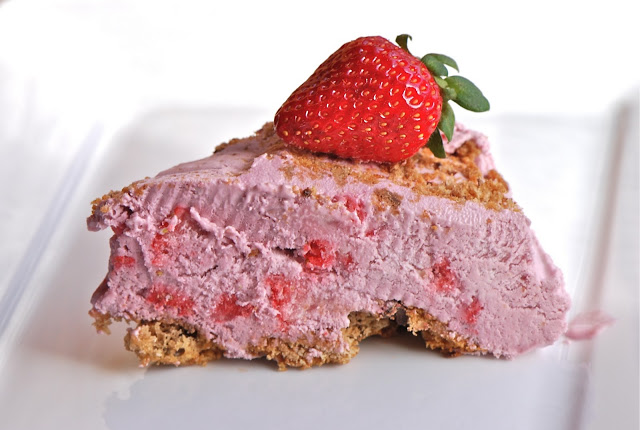 WOW….is the only way to describe this cake. It was beyond delicious. I've been holding onto this recipe for over 5 years.  I am not entirely sure what took me so long to make it. It was incredibly simple, really light and had a fantastic flavour and creamy texture. This recipe uses very few ingredients and takes very little time. The flavour of the strawberries is definitely the star of this recipe. But the secret ingredient of the crust makes the cake incredibly tasty. This dessert tastes like summer. I plan on taking it to the first BBQ of the season.
15 pre-made chocolate chip cookies 

1 package (250g) of cream cheese; room temperature

1/2 cup of icing sugar

1 can (approx 300ml) of frozen juice concentrate (such as strawberry, field berry, raspberry etc); thawed

1 and 1/4 cup of finely chopped strawberries

1 tub of Cool-Whip dessert topping
1. Place 10 to 12 cookies on the bottom of a 9 inch spring form pan.
2. Beat cream cheese with icing sugar in a large bowl until well blended. Make sure to blend the cream cheese well, so that you do not get any lumps in your batter. Gradually add in punch concentrate until well blended. Stir in chopped strawberries. Add whipped topping by folding it into the mixture. Poor entire mixture over cookies.
3. Freeze for several hours until firm. I found that you need to leave the cake in thee freezer at least 4 hours before it is firm. 
4. Remove from freezer and let stand for 15 mins before serving. Chop remaining cookies and sprinkle over the top of the cake. You can add more chopped strawberries to the top of the cake as well.
Source: adapted from What's Cooking Magazine-Summer 2004