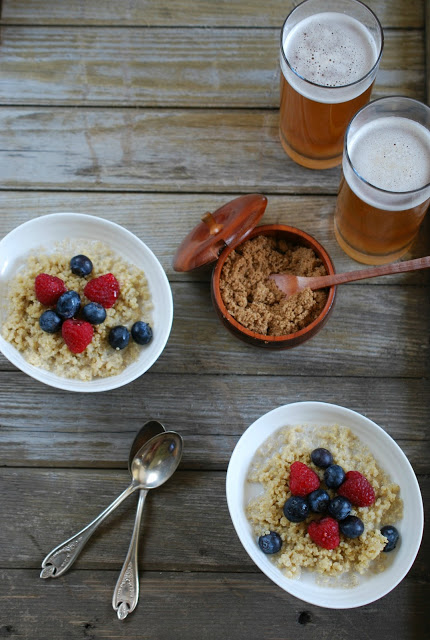 Hello, and happy Wednesday! I am so excited for today's post! My dear friend Helena at Peaches & Cream blog and I decided to do guest posts for one another's blogs for today. Peaches & Cream blog is one of my very favourite blogs. I find the content and photography very inspiring + I know you will too. Helena is an absolute sweet heart and it definitely shows in her writing. I love her enthusiasm for food and for cooking. A girl after my own heart! I've said it before, but food blogging has opened me up to meeting such wonderful, inspiring people. Helena's blog is definitely one to check out! Also feel free to check out her Facebook page and follow her on Twitter.
As for my guest post, I thought it was apt to do a guest post on peaches n cream ice cream with salted pecans :) Please check out Peaches & Cream to see the recipe.
And now…here's Helena!
Hello everyone! My name is Helena, and I am one of the girls behind the blog Peaches & Cream.  I am an amateur photographer, baker/cook…what can I say, I love all things food!  I am relatively new to the blogging world but I love meeting new people and sharing my passion with them.  Courtney welcomed me into the blogging world with open (virtual) arms and has been such a wonderful friend & inspiration for healthy and delicious meals-I am so lucky to have a friend like her!  She is truly one of the most kindest people I have ever met.  I hope you all enjoy today's post, I am so ecstatic to share it with you. 
Today is the day Courtney and I have at last gotten together to feature each others posts on our blogs.  We've been talking about it for quite some time now, so I am very excited to finally do this!   I've made this recipe over and over to make sure it was worth sharing with everyone.  It's a simple recipe but I really love quinoa and tried to find a unique way to feature it.  I couldn't really find a breakfast quinoa recipe I liked, so I just made one up.  It took a couple tries to get it right but I just love it!  I like to eat it at work, or after a good run.  I find it fills you up quite fast and leaves you feeling full for a long time afterwards.  
Quinoa, as you might already know, is considered a great source of protein (I believe it's a complete protein) and contains all 8 essential amino acids.  Did you also know that quinoa is a member of the same food family that contains spinach, swiss chard, and beats?  I learn something new every day!  I find that it has a slight bitter and nutty taste at times but overall delicious.  When we first started eating it we thought that the cooked quinoa resembled bugs (and we still loved it anyway…weirdo's). *hehe* I will definitely have more recipes to share with you that contain quinoa-but of course that's for a later time.  I would like to say thank you to Courtney for the invitation, and for all of you for viewing



. I hope you like it as much as I do!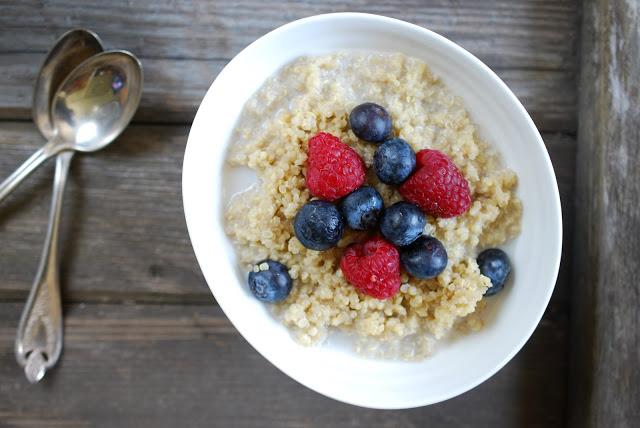 Ingredients
1 cup uncooked quinoa, rinsed

1 ½ teaspoon vanilla

1 ¾ cup almond or whole milk (alternatively if you wish to use water you only need 1 ¼ cup)
Brown sugar, or maple syrup, to sweeten

Fruit (I like it with raspberries & blueberries)

Extra milk, if desired
1. To cook the quinoa, place the milk and quinoa together over high heat and bring to a boil. Stir in the vanilla and reduce heat to low, covering for 15-20 minutes, until most of the liquid is absorbed or the quinoa is translucent.
2. Stir in extra milk if needed, add desired amount of brown sugar and fruit. Serve warm. 
*Please feel free to check out my blog and drop me a line, I love reading your comments!*
Serves: 2 to 3
Source: A Peaches & Cream Original
