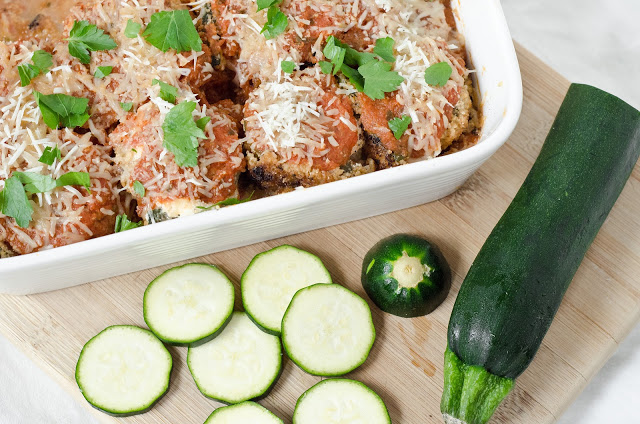 Today I am really excited to present an original recipe in honour of my first product review!
Aurora Importing
, a wonderful Canadian family-run company, was kind enough to contact me and ask me to contribute to their recent campaign "
How a Jar in your Fridge Can Be Your Best Friend
". They have a really cool video on their website called a
recipideo
that shows people how they can create a number of quick, healthy meals + appetizers inspired by simple ingredients from the fridge.  Whether it be a jar of marinara sauce for a quick pasta dish, a sprinkle of delicious romano cheese Italian bread crumbs to top off a delicious quick roasted vegetable gratin or
spicy antipasto spread
on toast for a speedy, yummy snack before dinner, Aurora Importing has you covered.
I was lucky enough to try out their wonderful new
gluten-free Italian bread crumbs
. I used them for a few of the rolls in the Zucchini Rollatini recipe and was impressed. The texture resembled panko bread crumbs compared to regular bread crumbs. It's nice to see that gluten-free products are becoming more readily available and convenient for those with following a gluten-free diet. The gluten-free breadcrumbs are made of a variety of gluten-free flours including brown and white rice flour. They are also milk, egg and corn free.
For the second half of the Zucchini Rollatini, I used
Aurora's  Seasoned Italian Bread Crumbs with Romano Cheese
. The bread crumbs added a lot of flavour to the dish without a lot of effort. I used the bread crumbs again later in the week to top off a zucchini and cherry tomato gratin. The breadcrumbs were perfect to use for a speedy dinner that tasted like it took a lot of time and effort.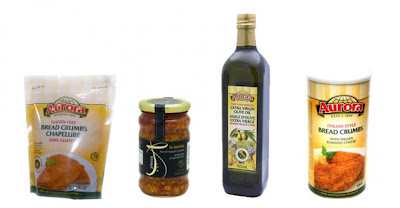 Make sure to check out Aurora Importing's
Facebook
page for other wonderful cooking ideas and helpful tips + advice! And don't forget to enter their contest :)
Hope you are all having a great weekend. :)
Note:
a
mandoline slicer
is the best way to cut the zucchini into nice thin strips.
Veganize:
To make this recipe vegan, simply use
tofu ricotta
in place of regular ricotta. Season with salt, pepper, fresh and herbs. For the topping, simply combine ground almonds or pine nuts mixed with nutritional yeast. And to coat the zucchini, use a non-dairy milk instead of the eggs.
Baked Zucchini Rollatini with Marinara Sauce
Ingredients
Marinara Sauce Ingredients:

1 onion, finely diced
1 tablespoon of good quality extra-virgin olive oil
4 cloves of garlic, minced
1-28 ounce can of San Marzano tomatoes (or any whole canned tomatoes)
1 tablespoon of sugar
salt + pepper to taste
bunch of basil, chiffonade
2-3 large zucchini, sliced into sixteen 1/4 inch strips (lengthwise)
2 eggs, lightly beaten
2 cups of Italian bread crumbs
1 tablespoon of good quality extra-virgin olive oil
2 cups (500ml) of low-fat ricotta cheese
1/2 cup of parmesan cheese
salt + pepper to taste
1 teaspoon of dried oregano
1 tablespoon of fresh, chopped basil
fresh chopped parsley for garnish
parmesan cheese for topping
Method
Marinara Sauce:

In a medium sauce pan, heat olive oil over medium heat. Sauté the onion until soft and translucent (about 5 minutes). Add the garlic and sauté another minute until fragrant. Add the canned whole tomatoes and sugar. Reduce to low and simmer sauce for about 10 minutes. Break up the tomatoes with the back of a wooden spoon or purée the sauce with a hand immersion blender. Season with salt, pepper and fresh basil. Remove from heat. Note: To add some richness, you can add a tablespoon of butter after the sauce has been removed from the heat.
Preheat oven to 350'F.

Breaded Zucchini:

Heat oil in a large frying pan over medium heat. Dip each zucchini strip (one at a time) in the egg mixture ensuring each piece is well coated. Press the zucchini strips in the Italian bread crumb mixture and the lay them in the frying pan. Pan fry the zucchini strips until slightly golden on each side (about 3 minutes per side) and pliable. Place the cooked strips on a plate lined with paper towel. Note: add more olive oil if the pan starts to get dry.

Ricotta Mixture:

In a small bowl, combine the ricotta cheese and parmesan cheese. Season with salt, pepper, fresh basil and dried oregano.

Rolling, Rolling, Rolling:

Place a cooled strip of zucchini on a cutting board. Take a heaping tablespoon of the ricotta mixture and place at one end of the zucchini strip. Tightly roll. Repeat with all of the zucchini strips. Now you have zucchini roll-ups!

Putting it all Together:

In a square baking dish, spoon enough marinara sauce to cover the bottom of the pan. Place zucchini roll-ups in the pan using a 4 X 4 pattern. Note: make sure to press the seams of the roll-ups together against one another to keep them closed. Spoon the remainder of the marinara sauce on top of the rolls-ups. Sprinkle top with some grated parmesan cheese and more Italian bread crumbs if desired. Bake for 15 to 20 minutes, or until the cheese is bubbly and hot. Remove from oven, let stand for 10 minutes and garnish with fresh chopped parsley.
Source: The Fig Tree