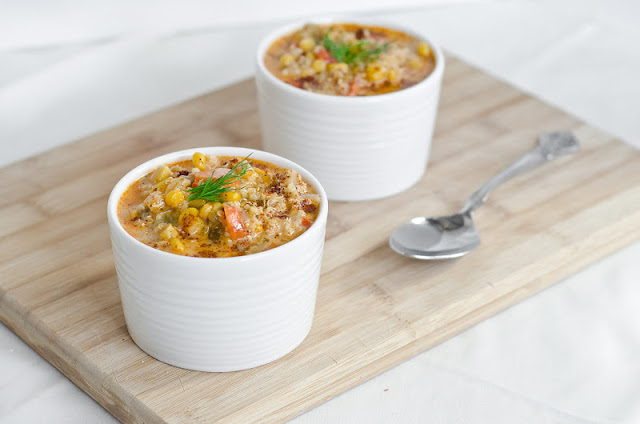 I love food of all kinds – Italian, Moroccan, Lebanese, Greek, Indian….I just love food in general. But, my weakness is undoubtidly Latin food. Whenever I crave something, you can bet it's some sort of Latin fare. A lot of the food I make at home has a Latin influence. Hot peppers, sweet chilies, tomatoes, black beans, avocados, limes, tomatillos, cumin, corn, cilantro, and fresh oregano…mmm!
When I stumbled upon this recipe for Mexican corn chowder about a year ago, I HAD to make it immediately. It not only contains all of my favourite Mexican flavours, but it also has a healthy dose of vegetables and quinoa. Since I first made this a year ago, it has become a staple in our home. Even if the ingredient list is relatively long, it's an easy recipe to throw together and tends to use ingredients you likely already have in your pantry. The key to this recipe is letting the chowder simmer on medium-low heat for at least 45 minutes to allow the flavours to really come together. And it's fun to get creative with the toppings. One of my favourite toppings is chopped avocado with a little lime juice. Cilantro always freshens up this soup. And chopped peanuts make a nice garnish to this chowder. This chowder is sure to impress – the perfect combination of spicy, sweet, and savory. ¡Buen Apetito! :)
Ingredients
2 tablespoons of vegetable or canola oil
2 cloves of garlic; minced
1 large yellow onion; diced
1 yellow pepper; diced
1 red pepper; diced
2 stalks of celery; chopped
2 carrots; peeled and chopped
1/2 cup of uncooked quinoa; rinsed and drained
1 small tin of green chilies
1 teaspoon of ancho chile powder
1 and 1/2 teaspoons of dried mexican oregano
1 and 1/2 teaspoons of dried basil
1 and 1/2 teaspoons of ground cumin
1/2 teaspoon of ground sweet paprika
1/2 pound of waxy red potatoes; cleaned and diced small
1 and 1/2 cups of fresh or frozen corn kernels (thawed & drained if frozen)
4 cups of vegetable broth
2 plum tomatoes; seeded & diced small
1/4 cup of heavy cream or soy creamer (or unsweetened non-dairy milk)
1 tablespoon of red wine vinegar
juice of one lime
salt and pepper to taste
Garnish: chopped fresh cilantro, roasted chopped peanuts, diced red onion, diced green onion and/or chopped ripe avocado
Method
1. In a large soup pot, heat the oil over medium-heat and add the chopped onions. Sauté the onions for 5 minutes or until slightly softened. Add the yellow & red peppers, carrots, and celery and sauté for 8 minutes or until peppers are slightly softened. Add the garlic and sauté for 30 seconds.
2. Add the rinsed quinoa to the pot and toss with the sautéed vegetables. Toss for 3 to 4 minutes, or until the quinoa begins to turn slightly golden.
3. Add the ancho chile powder, oregano, basil, cumin and paprika and fry with the sautéed vegetables for 1 minute.
4. Add the four cups of vegetable broth then the potatoes, green chilies and corn. Increase the heat and bring the mixture to a gentle boil. Lower the heat to medium-low, cover and simmer for 30 minutes, stirring occasionally. Test the potatoes to ensure they are cooked through and ensure the quinoa is tender & translucent.
5. Stir in the tomatoes, cream/cream substitute, red wine vinegar and lime juice. Simmer for another 5 minutes. Season with salt and pepper.
Note: If soup is too thick, add 1/2 cup of water followed by 1/4 cup of cream/cream substitute until the desired consistency is reached. Remove from heat.
6. Allow the soup to rest off of the heat for 10 minutes and then serve. Garnish as desired.
Source: adapted from Viva Vegan by Terry Hope Romero