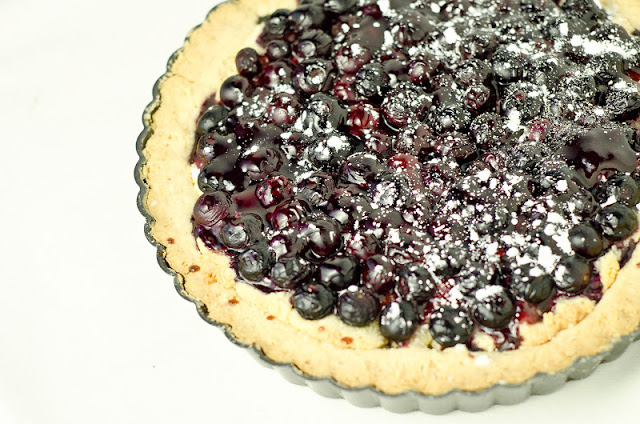 I love blueberries. I love them plain as a snack, I love them in my yogurt for breakfast and I love them in tarts & pies. I also love them added to salads. During the winter, it can be difficult to find fresh blueberries. Most of the winter I am forced to eat frozen organic blueberries. Still delicious, but not the same as fresh.
 A week or so ago, a sign of spring arrived as fresh blueberries were being sold at a local grocery store. I went a little over board and bought two huge containers full. I managed to eat my way through the first container fairly easily, but was struggling a little to eat the second container before the berries went bad. So, I decided to make a blueberry pie. Scanning my recipe books to find the perfect blueberry pie recipe, I found this blueberry tart. And I decided I HAD to try it. I love almond paste and I knew that almonds combined with blueberries is a winning combination. 
The tart was quite rich and full of delicious blueberry flavour. The crust was extremely easy to make. I love press-in dough crusts – so simple. I used raspberry jam as a glaze on top of the blueberries and quite liked it. If you'd like full-on blueberry flavour, I suggest using a blueberry jam as your glaze. 
Hope you all had a great weekend! :)
Topping Ingredients
1 and 1/2 cups of fresh blueberries

1/3 cup of seedless raspberry or blueberry jam

1 tablespoon of icing sugar
Crust Ingredients
1 and 1/2 cups of all-purpose flour

2 tablespoons of white granulated sugar

4 teaspoons of cornstarch

pinch of salt

3/4 cup of cold unsalted butter; cubed
Frangipane (almond filling) Ingredients
2/3 cup of whole blanched almonds

1/4 cup of white granulated sugar

2 tablespoons of all-purpose flour

2 tablespoons of butter; melted

1 egg

1/4 teaspoon of almond extract
Method
1. Set out a 9-inch (23 cm) tart pan with a removable bottom.
2. In a food processor, pulse the flour, sugar, cornstarch and salt. Add the butter and pulse until mixture clumps all together. With floured hands, press the dough evenly over the bottom and up the side of the tart pan. Cover and chill for an hour in the fridge. Preheat oven to 350'F.
Note: You can skip the food processor and simply cut in the butter with a pastry cutter or two forks until the dough clumps together.
3. Once the crust is chilled, prick the pastry at 1-inch intervals all over with a fork. Bake in the bottom third of the oven. Bake at 350'F until the crust is just starting to become golden (about 20 minutes). Once lightly golden, remove from oven and cool on a rack. Turn oven heat up to 375'F.
4. For the filling, finely chop the almonds in a food processor. Add the sugar and flour; pulse to combine. Add the butter, egg, and almond extract; pulse until smooth. Spread the filling evenly in the cooled tart shell.
5. Sprinkle the blueberries evenly over the filling. Bake in the bottom third of a 375'F oven for 25 minutes. Remove tart from oven and brush the top with 1/4 cup of the jam. Note: I microwaved the jam for 20 seconds to make more spreadable. Bake another 10 minutes (or until a cake tester inserted in the middle of the tart comes out clean). Let cool on a rack.
6. Re-melt the rest of the jam and brush over the berries. Dust the top of the tart with icing sugar. You can also garnish the tart with some sliced almonds.
Source: Canadian Living – The Complete Canadian Baking Book by Elizabeth Baird