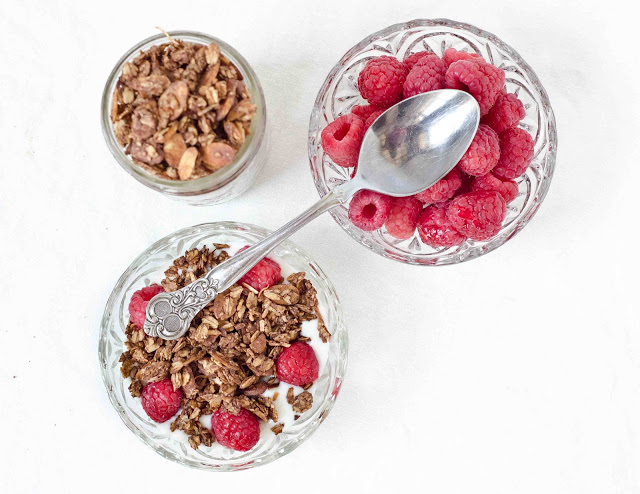 Here is a delicious way to start your week! A quick-to-make granola inspired by my favourite tea from David's Tea – the delicious, slightly spicy Cocoa Chai. Hints of chocolate, cinnamon, cloves, ginger and cardamom make this granola taste like pure heaven. Especially when mixed into some yogurt with some fresh raspberries. The cocoa flavour is nice + subtle, but combines so nicely with the chai flavour. If you'd like a bit more spice, add a pinch of cayenne into the mix.
Hope you all had a great weekend! Mine was very nice! I finally got to have my first picnic of the summer on Saturday. And then Jesse and I decided to continue our date night and go see Men In Black 3. Totally made me feel like a teenager again to see Will Smith in action. *hah*
Wishing you all a fantastic week! I'll be back in a few day with a new snack recipe. I love salty snacks, but am trying not to have any processed snack foods. So, I've come up with a new recipe to please the afternoon snacker in me. Looking forward to sharing it with you. :)
Ingredients
3 cups of organic rolled oats (not instant)
1 cup of sliced almonds
1/2 cup of sweetened/unsweetened shredded coconut
4 tablespoons of canola oil
1/4 cup of honey or agave syrup
1 teaspoon of pure vanilla extract
2 tablespoons of unsweetened cocoa powder
1/2 teaspoon of salt
1/8 teaspoon of ground cardamom
1/8 teaspoon of ground cloves
1/8 teaspoon of ground ginger
3/4 teaspoon of ground cinnamon
Method
Pre heat the oven to 350'F. Mix together the rolled oats, sliced almonds and shredded coconut in a medium bowl.
In a small saucepan, heat the oil + honey over low-medium heat. Once heated through, add the vanilla.
Meanwhile, in a small bowl, combine the cocoa powder, salt, ground cinnamon, ground cloves, ground cardamom and ground ginger. Note: if you'd like a stronger chai flavour, add 1/4 teaspoon of cardamon + ginger.
Add the cocoa/spice mixture to the oil/honey mixture. Stir until well combined.
Pour the wet mixture on top of the oats/nut mixture. Mix well so that all of the oats and nuts are thoroughly moistened.
Pour the granola onto a large baking sheet lined with parchment paper. Spread the granola into an even layer on the baking sheet. Bake the granola for 15 minutes. Turn the granola mixture over and then bake for another 5 to 10 minutes (or until the granola is lightly browned and a bit crunchy).
Allow the granola to cool on the pan for at least 15 minutes. Break up the cooled granola with your fingers creating nice sized clusters. Granola can be stored in an air tight container at room temperature for 2 weeks.
Once you've made some cocoa chai granola, try this parfait. Simply top some vanilla yogurt (dairy or non-dairy) with some cocoa chai granola and fresh raspberries. A great change-up to your morning routine!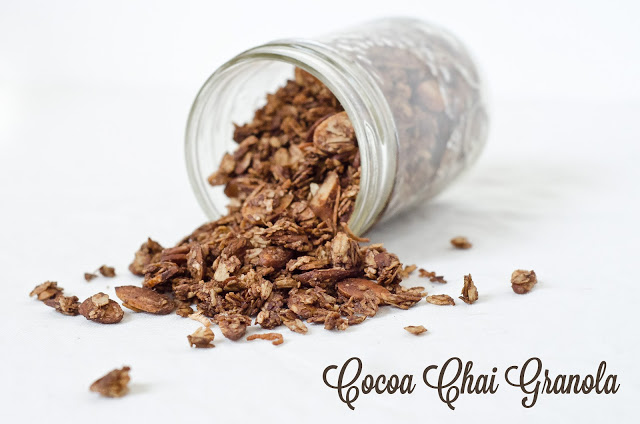 Source: Courtney original