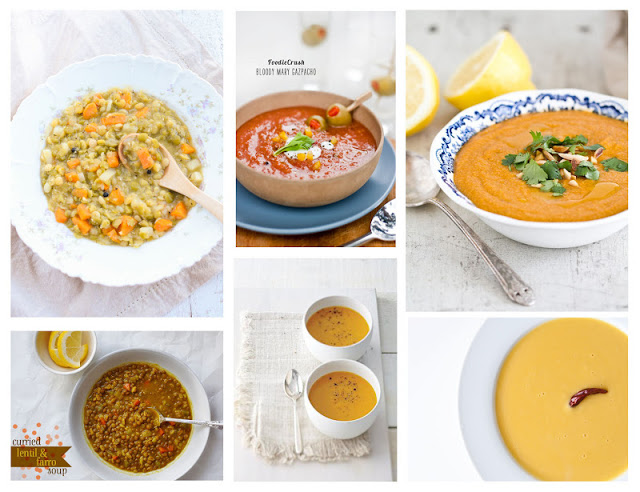 | Split Pea Soup – Scandi Foodie | Bloody Mary Gazpacho – Foodie Crush |Red Lentil Soup – A Couple Cooks | Curried Lentil & Farro Soup – The Parsley Thief | Spice Butternut Squash Soup with Apple – Whole Living | Spicy Thai Squash Soup – West Coast Nest | 
Carrot & Parsnip Soup with Hazelnut Cornbread – Inspiring the Everyday (not pictured) |
Happy Friday! I hope you all had a fantastic week. Mine was great – filled with excellent live music and meeting lots of new people. On Tuesday, I went to see one of my favourite bands – Hey Ocean! They are an energetic and insanely talented band from British Colombia. Their new single 
Big Blue Wave is beyond catchy. Be sure to check it out :) Wednesday, I attended the first Manitoba Food Bloggers meet & greet. I met some wonderful people including Elaina from Flavour Food & Wine and Natasha from VIMWAC (Vegetarian in Winnipeg Without A Clue). Be sure to check out their blogs for fantastic recipes and photography.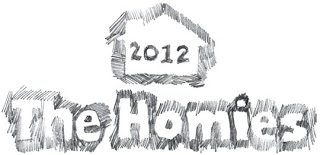 Also this week, I discovered that a truly lovely individual nominated The Fig Tree for a Homie for best food photography on a blog. I want to thank this person – you made my week! I also want to thank everyone who voted for me. I believe voting ends at midnight tonight. So, if you have a moment & the inclination, please vote for me here. 
And finally, this week I would like to share a blog I've been loving lately. Allison at 
Live It.Love It. Blog It recently went to Antarctica and blogged about all of her adventures whilst there. I enjoyed reading about her trip so much. The photos are beyond stunning and her stories so full of passion and energy. Her posts on all her travels are truly inspiring. Reading about her tales of 10 days in the Antarctic has made me reconsider the dreams I had written off as impossible or improbable. I also really love reading her updates on her "30 Before 30" list. I love reading about other people's goals & the progress they are making. Be sure to check out her posts on her trip to Antarctica. You will not be disappointed! She got to play with baby penguins in the wild. Enough said! :)  
Hope you all have a wonderful weekend! What are your plans? I'll be back on Sunday with a post on a delicious blueberry almond tart I made this past week.