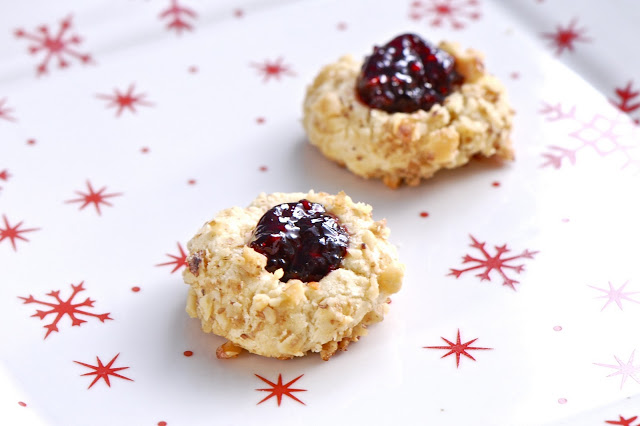 In a previous post, I mentioned that my favourite holiday cookie is the raspberry jam thumbprint. I had intended on posting the recipe prior to Christmas. However, as I have been in the midst of packing to move, I lost my copy of the recipe I normally use (the best one I've found). It was worrisome! Thankfully, today I located said recipe and am finally able to post it for you. Christmas may have passed (and I hope you all had a wonderful Christmas with family & friends), but this cookie could be made at any time of the year with different jams, lemon curd or even peanut butter or hazelnut spread. Although, I have to say, from personal experience, they are incredibly delicious with raspberry jam.
Ingredients
2/3 cup of unsalted butter

1/4 cup of packed brown sugar

2 tablespoons of granulated sugar

2 egg yolks (save the whites for the coating)

1/2 teaspoon of vanilla

1 and 1/2 cups of all-purpose flour

1/4 teaspoon of salt

1/4 teaspoon of baking powder 
2 egg whites

1 tablespoon of water

1 and 1/4 cups of finely chopped toasted walnuts

fresh raspberry jam (I used about one teaspoon per cookie, as the jam was extremely delicious)
Method
1. In a large bowl, beat together the butter, brown sugar and granulated sugar until fluffy. Beat in egg yolks and vanilla.
2. In a separate bowl, whisk together the flour, salt and baking powder. Stir butter mixture into the flour mixture.
3. Roll by scant 1 tablespoons into balls. Place balls on a cookie sheet on parchment paper.
4. For the coating, whisk the egg whites with water until frothy. Place the walnuts in a dish. Using a fork, dip each ball into the egg white mixture and then in the nut mixture until well coated. Place ball back on the cookie sheet. Note: place the cookies 1 inch apart.
5. With your thumb or the end of a wooden spoon, make an indentation on the top of each ball.
6. Bake at 350'F for 12 to 14 minutes; or until the edges are golden. Once you remove the cookies from the oven, use the end of a wooden spoon to re-define the indentations on each cookie.
7. Once the cookies have cooled slightly, put 1/2 to 1 teaspoon of jam into the centre of each cookie.
Source: Canadian Living Holiday Magazine 2010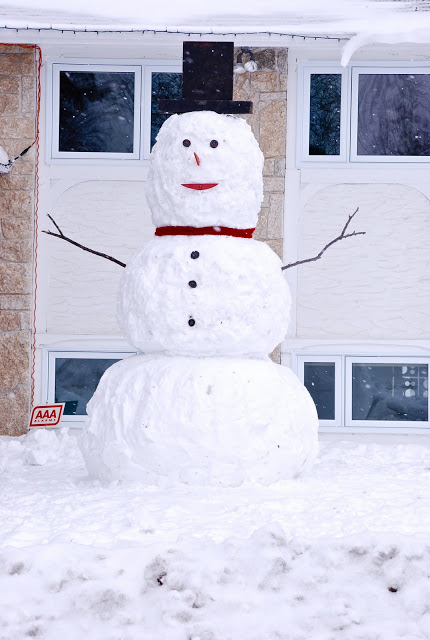 Happy New Year!!! Wishing you all the very best in 2011 :)
Do you have any ideas of what type of recipes you'd like to see on The Fig Tree in 2011? Suggestions welcome! Please comment. I'd love to hear from you! Thanks for reading :)