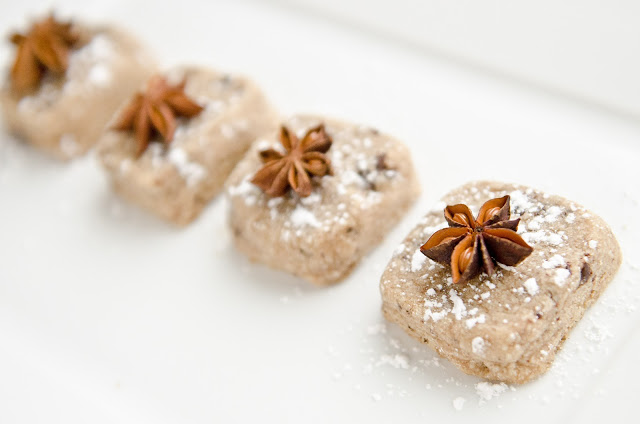 Hello and Happy Holidays everyone! :) Can you believe it's already December? It's crazy how quickly time flies by – but I for one am extremely happy it's the holiday season. For one, it means spending lots of time with loved ones and carrying on awesome holiday traditions such as watching Elf. (SANTA!!!) The holiday season also implies baking season – which I take as my licence to bake way too often and eat way too much of it! What can I say…I'll jump onto the weight-loss resolution band wagon in January. *hehe* 
During the holiday season, I love baking cookies in particular. When Kristy at Keepin' It Kind asked me to participate in a virtual holiday cookie exchange, I was thrilled! What a great way to celebrate the holidays and share recipes with some of my favourite bloggers. A cookie exchange was also an excuse to try out a new cookie recipe. Every year, I tend to make the same standard, tried + true recipes including shortbread, gingersnaps and jam walnut thumbprints. However, the past few years, I have made a new tradition of trying one new cookie recipe per year. This year, I opted to try my hand at making a vegan cookie to be enjoyed throughout the holidays. I wanted something spicy like gingersnaps, but with a healthy dose of chocolate. Alas, the Chocolate Chai Shortbread Cookie was born. And it is yummy! The shortbread is flaky, buttery and delicate. The spice is just right and chocolate adds a little something special. A different kind of shortbread to spice up your holiday baking routine! 
Wishing you all a wonderful holiday season. May it be merry + bright!
ps. A huge thank you to Kristy for asking me to participate in the awesome holiday cookie exchange!