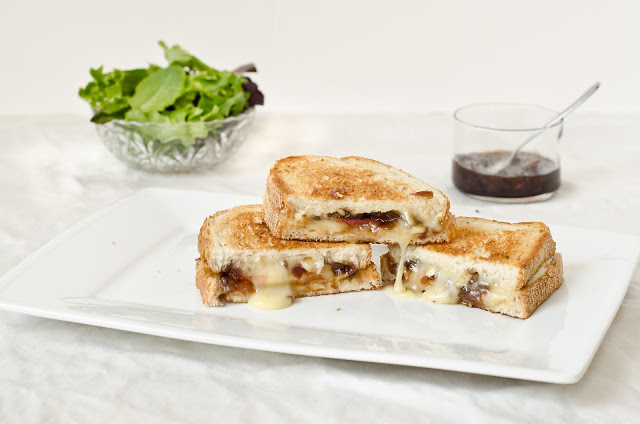 So, apparently April is National Grilled Cheese Month! Why was I not aware of this before today!? Maybe there was really no need for me to know, as I don't really need an excuse to make a grilled cheese sandwich. I've never needed one before! *hehe* I've loved grilled cheese sandwiches since I was a kid and my dad would make "toasted cheese breads" for a snack on the weekends. 
This morning, after I read that it was National Grilled Cheese month, I spent all morning day dreaming of my very favourite fancy grilled cheese sandwich – creamy brie cheese, sour yet sweet caramelized onion jam, crisp apple slices, fresh basil and flavourful dijon mustard, oh my! The second work was done for the day, I went straight to the market to grab the items I needed to make my grilled cheese sandwich dreams come true! 
Somehow I had enough self-restraint to spend 5 minutes photographing my delicious sandwich, so I could share it with you. But let's just say, once I finally sat down to eat my awesome grilled cheese sandwich, I was no longer so patient and lady-like. I devoured this sandwich in seconds. *hah* And am now typing this post feeling extremely content. *hehe* A great way to start the weekend!
What makes your favourite grilled cheese sandwich special?
Note: This sandwich can be made vegan by using a shredded white vegan cheese. I highly recommend using Daiya shredded vegan cheese, as it melts extremely well. And you want this sandwich to be gooey! :)
Ingredients
2 slices of whole-grain bread

3 thin slices of brie cheese

1/2 apple; unpeeled, cored and sliced into rounds 

handful of fresh basil leaves

dijon mustard to taste

2 tablespoons of caramelized red onion jam (recipe to follow)
Method
1. Spray first slice of bread with canola oil and place oil-side down onto a hot frying pan. Place pieces of brie cheese on top of the bread. Spread caramelized red onion jam on top of the cheese. Allow the bread to toast and the cheese to melt.
2. On the second piece of bread, spread a thin layer of dijon mustard.
3. Once the cheese is melted and the first slice of bread is nicely toasted, place a few basil leaves on top of the caramelized red onion jam and top with the second piece of bread (mustard side down).
4. Toast for about 2 minutes, or until the second piece of bread is nice and golden.
Serve warm along with a nice little side salad or a bowl of soup.
Quick Caramelized Red Onion Jam
In a medium sauce pan, heat two tablespoons of canola oil over medium heat. Add one finely diced red onion and sauté for 10 minutes or until the onion begins to soften. Add 2 tablespoons of white sugar and 2 tablespoons of balsamic vinegar. Add 1/4 cup of water. Allow the mixture to come to a boil, stir well and reduce heat to a gentle simmer. Allow the mixture to cook & thicken for about 10 minutes. Allow the jam to cool slightly and add to sandwiches :) Extra jam can be kept in the fridge for 2 weeks.
Source: a Courtney original