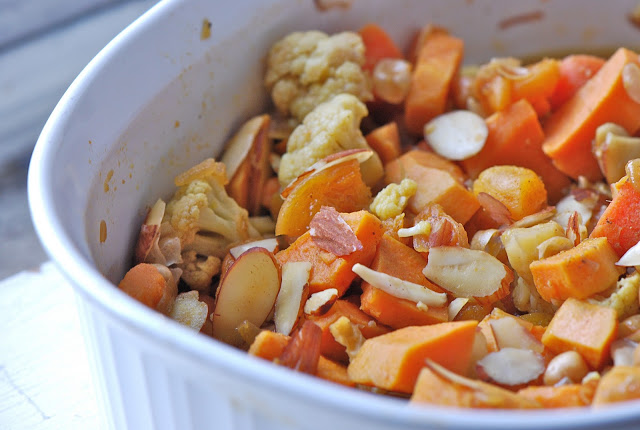 It has been extremely chilly the past two weeks. I am talking about at least -30'C with windchill. Brrrrr!!!! In an effort to warm the family up, my mom made this amazing Moroccan tagine last night for dinner. I had to share! The cinnamon, raisins, molasses and apricots gave the tagine a nice subtle sweetness while the cumin, coriander, garlic and ginger gave a hint of savory. The sweet potatoes were fantastic, as they absorbed all the delicious flavours of the tagine and became perfectly tender. The toasted almonds gave the tagine a nice crunch. And the chickpeas boosted the protein content of the dish for the vegetarians in the crowd (i.e. me). I have to say…this dish certainly warmed everyone up! It was a perfect meal for a very chilly evening. Especially since mom then served a warm apple crisp to finish off the evening. Mmmmm!
Ingredients
3 tablespoons of olive oil

2 cups of sweet potato; peeled and diced into 1-inch pieces

1 cup of onion; chopped

1 and 1/2 cups of carrots; peeled and chopped

3 cloves of garlic; minced (or 1 to 1 and 1/2 teaspoon of garlic powder)

2 tablespoons of ginger; finely grated ( or 1/2 teaspoon of ground ginger)

1 tablespoon of ground cumin

1 tablespoon of ground coriander

1 teaspoon of cinnamon

3 cups of vegetable stock (or water)

3 tablespoons of fancy molasses

1 and 1/2 cups of cauliflower florets

1-14 ounce can of chickpeas; drained and rinsed

3/4 cup of raisins

1/2 cup of chopped dried apricots

salt and pepper

1/2 cup of sliced almonds; slightly toasted

cooked couscous or rice
Method
1. Heat the oil in a large pot over medium heat. Add the sweet potato, onion and carrots. Saute until the onions are translucent (about 5 minutes). 
2. Add the garlic, ginger, cumin, coriander and cinnamon and saute another 2 minutes.
3. Add stock (or water) and molasses and bring to a simmer.
4. Add cauliflower, chickpeas, raisins and apricots.
5. Season with salt and pepper. Bring back to a simmer. Simmer the tagine until the vegetables are tender and most of the liquid has been absorbed (but tagine is still moist). [about 20 minutes]
6. Adjust the seasoning to taste. Garnish with almonds. Serve the tagine by itself as a stew or on cooked couscous or rice.
Source: In the Kitchen with Anna Olson cookbook (2008)