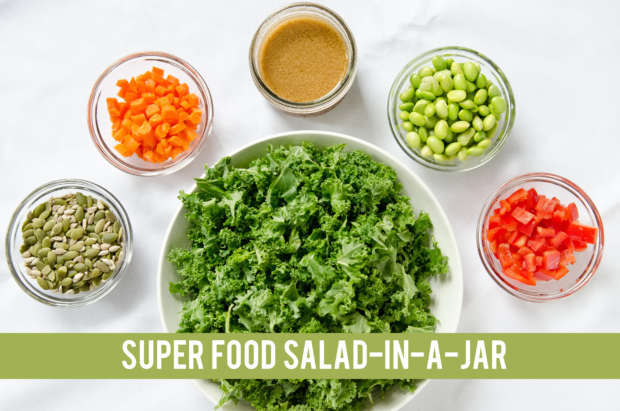 One of my goals for 2015 is to incorporate more greens into my diet. I love salads, but I don't make them as often as I should. Salads-in-jars to the rescue! These little beauties are the key to fitting more greens into your diet. You simply prepare a number of jars at the beginning of the week with the dressing on the bottom, filler in the middle and greens on the top, and you are set for a week's worth of salads! These mason jar salads stay fresh in the fridge for up to a week. To up the ante on the nutritional front, I opted to create a salad with some protein-packed edamame followed by carrots loaded with vitamin A and red peppers loaded with vitamin C. The vitamin C in the peppers will make the iron in the kale more easily absorbed into the body. To add some texture and healthy fats, I added in some sunflower seeds, pumpkin seeds and some hemp seeds. The pumpkin seeds are loaded with Vvtamin E and the hemp seeds are a great source of omega 3 fatty acids. Top the salad with some chopped kale and romaine lettuce and you've got one delicious dose of plant-powered medicine to keep you healthy – especially during flu season!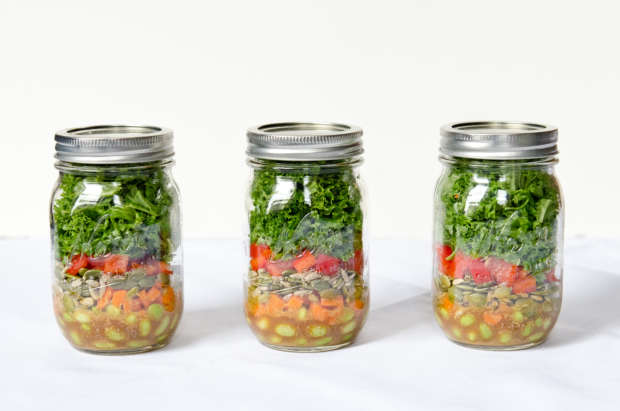 The dressing for this super food salad is a family favourite. I would call it our "house dressing", as I always have some ready-to-go in the fridge. In fact, I have to make my mother-in-law a fresh batch every time I see her. This dressing is full of flavour with little oil and no added sugar. It has nutritional yeast which sounds odd, but is really quite yummy and packed with protein and B vitamins. Nutritional Yeast can be found at most grocery stores in the bulk section and at all health food stores. Nutritional yeast is not an active yeast like one would use to make bread. It is sold in flakes and as a powder and imparts savoury cheesy flavour. This dressing also has apple cider vinegar, tamari or soy sauce, sesame oil, garlic, and your choice of mild-flavoured oil such as canola, safflower or grape seed. It's seriously amazing. I put this *shit* on everything! :)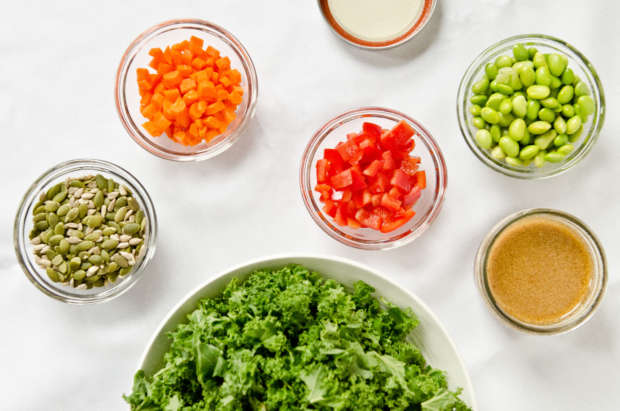 Hope you all have a wonderful Monday! This past weekend, I met up with Nita from Carrots & Cake – Balanced Nutrition Consulting. We have some great features planned for both our readers. Stay tuned! In the mean time, please pop over to Nita's fabulous website for her newest post – Black Bean Quinoa Stew. 
Super Food Salad-in-a-Jar
Ingredients
1/3 cup of apple cider vinegar
1/3 cup of tamari or low-sodium soy sauce
1/4 cup of water
1/4 cup of canola oil
1 teaspoon of sesame oil
1 clove of garlic, finely minced
1/2 cup of nutritional yeast
1 clean one-pint canning jar
1 and 1/2 cups of grated or chopped carrot
1 and 1/2 cups of cooked edamame
1 and 1/2 cups of chopped red pepper
1 and 1/2 cups of seeds (pumpkin seeds, sunflower seeds, hemp seeds etc)
6 cups of chopped kale
6 cups of chopped romaine lettuce
6 clean one-pint canning jars
Method
In a canning jar, combine all of the dressing ingredients. Shake well to combine. Allow the dressing to sit for 10 minutes before using.
In the 6 remaining canning jars, add 2 tablespoons of dressing per jar. Then add: 1/4 cup of edamame, 1/4 cup of grated carrots, 1/4 cup of seeds and 1/4 cup of diced rep pepper. Top each jar with 1 cup of chopped kale and 1 cup of chopped romaine lettuce. Pack ingredients tightly into the jars and screw on the lids.
To serve: shake jar well to distribute the dressing and then dump into a bowl and enjoy! If you'd like to eat the salad right out of the jar, add less romaine lettuce. Salad will last up to a week in the fridge.
Source: dressing adapted from various sources on the interest – origin unknown