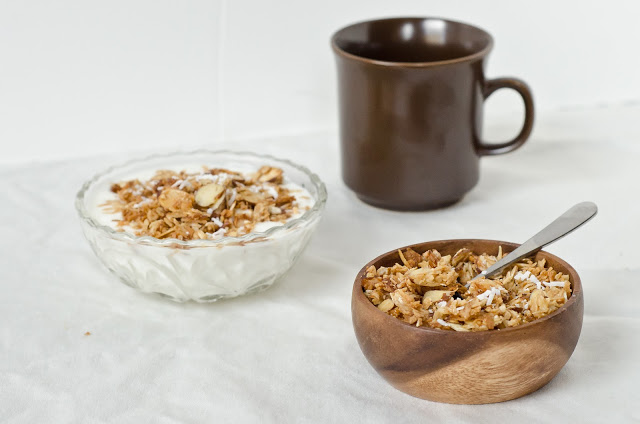 Every single morning, I have a toasted English muffin with peanut butter. You'd think I would get sick of having this same thing every morning, but I never do! I look forward to my morning toast and a large cup of tea. But to avoid be extra boring, I try to keep things a bit more interesting with the yogurt I have with my tea & toast. Some mornings I top my yogurt with fresh organic blueberries & walnuts. Other mornings it's shredded coconut, pineapple chunks and hemp hearts. And some times, I like to make my own granola to use as a topping for my yogurt. 
Making granola is a lot of fun – there are so many flavours to experiment with and so many additions you can make. One of my very favourite homemade granola mixes is Pumpkin-Spice Granola with Cranberries & Pecans. You can add dried fruit, nuts of any kind, seeds such as chia, quinoa or pumpkin seeds, toasted grains such puffed brown rice and toasted millet, shredded coconut etc. You can bind and sweeten the granola with various types of natural sugars such as honey, maple syrup or agave syrup. And you can use various spices such as cinnamon, ginger, and nutmeg or extracts such as vanilla to flavour the mix.
Since preparing homemade granola is so quick, you can easily make a different type each week and keep breakfast interesting every day. Each batch is good for 3 weeks, as long as it's sealed in an airtight container.
Here are some other granola ideas:
Have a fantastic Wednesday. I'll be back on Friday with some Link Love :)
Ingredients
2 cups of organic rolled oats (not quick cooking oats)

1 cup of sliced almonds

1/2 cup of unsweetened shredded coconut

1 teaspoon of pure vanilla extract

1 teaspoon of ground ginger

2 tablespoons of canola oil

4 tablespoons of liquid honey

pinch of salt
Method
1. Preheat oven to 300'F.
2. In a bowl, toss together the rolled oats, almonds and coconut.
3. In a small saucepan, warm the oil, honey, vanilla and salt over medium-high heat until runny (about 3 minutes). Mix in the ground ginger. Pour honey mixture over the oats & toss to coat.
4. Evenly spread the mixture onto a parchment paper-lined baking sheet.
5. Bake granola in the oven for 20 to 25 minutes, or until nicely golden. Note: you may want to toss/flip the granola after 15 minutes to allow even baking. Be sure to pay attention to the coconut, as it will darken a bit quicker than the oats & almonds.
6. Once nicely golden, let the pan cool on a rack. Crumble the granola with your fingers into small clusters.
Granola can be stored in an airtight container for up to 3 weeks.
Source: slightly adapted from Canadian Living Magazine (May 2012)