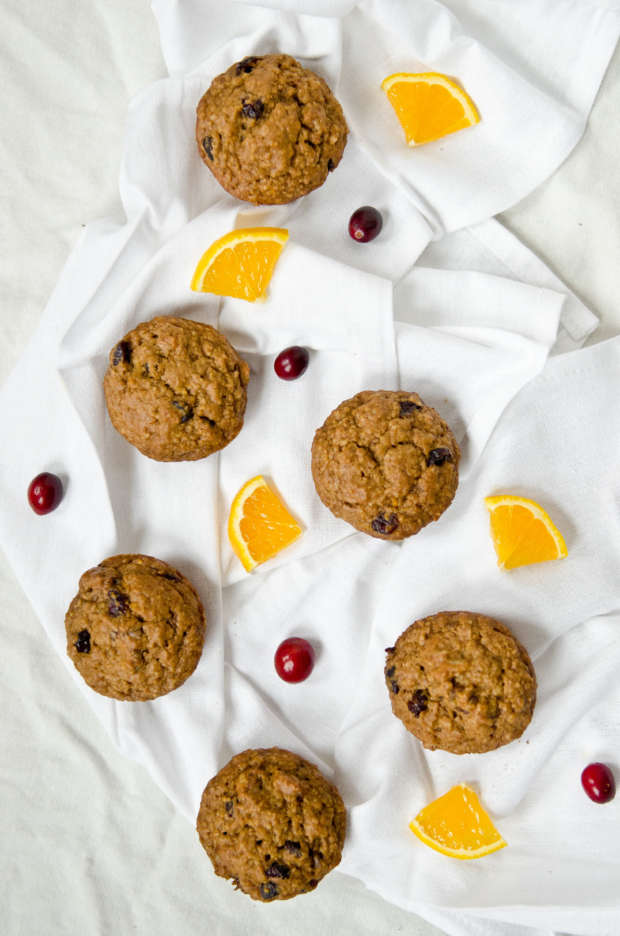 When Jesse and I were in Amsterdam this past summer, we found a fabulous little café that served the best breakfasts. It was a lovely place on the corner of a busy street close to where we were staying with our two fabulous AirB&B hosts. I believe it was called Anne&Max. Each morning during our stay, we sat outside and watch the people go by – the hustle and bustle of a foreign city. With your breakfast order, you got either tea or coffee. Since I'm a complete tea-granny, I opted for the tea every morning and it was seriously the best tea I've ever had. It was a rooibos infused with orange, cinnamon, nutmeg and cardamom. Thankfully, they sold the tea in bulk and I was able to take some home. *yum*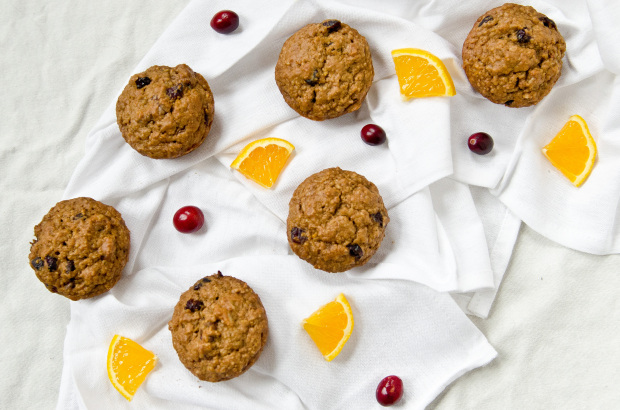 The flavours of the tea inspired me to create a delicious, wholesome muffin infused with bright orange flavour and spiced with cinnamon and nutmeg. Plus a pinch of cardamom! The cardamom is not necessary, but it adds a little extra something special. Biting into one of these moist, flavourful muffins immediately brought me back to this summer and all of the wonderful memories we made in The Netherlands. These muffins have the perfect combination of flavours. Warm and spicy with juicy cranberries throughout. Walnuts round out the texture with a nice crunch. These muffins would make the perfect treat for Christmas brunch or as a healthy snack during the holiday season. I'm likely going to eat my weight in them over the next week or two while powering through all four seasons of Homeland. (Amazing show by-the-way!)
Wishing you and yours a wonderful holiday season! Best wishes for a happy and healthy 2015. Looking forward to sharing more delicious recipes with all of you in the new year. Your readership means the world to me! Joyeux Noël mes amis!
Cranberry Orange Oat Muffins
Healthy, wholesome oat muffins infused with bright orange flavour and spiced with cinnamon & nutmeg. Filled with plump, juicy cranberries and crunchy walnuts, these are the perfect muffins to enjoy during the holiday season.
Ingredients
1 large orange
2/3 cup of dried cranberries
1/3 heaping cup of oat flour (see note)
1 cup of unbleached, all-purpose flour or whole wheat pastry flour
1/4 cup of brown sugar
1 teaspoon of baking powder
1/2 teaspoon of baking soda
1/4 teaspoon of salt
1 teaspoon of ground cinnamon
1/4 teaspoon of ground nutmeg
Pinch of ground cardamom
1/4 cup of neutral flavour oil (non-GMO canola or melted coconut oil)
3/4 cup of unsweetened almond milk
1 teaspoon of pure vanilla extract
1/2 cup of chopped walnuts
Method
Preheat oven to 375'F. Using a micro plane zester, zest the orange and set zest aside.
Squeeze juice from the orange into a small glass measuring cup. You'll want approximately 1/2 cup of orange juice. If you don't have enough, add some water. Add the dried cranberries to the juice. Microwave cranberries in the juice for 30 seconds. Let mixture stand for 10 minutes, so the cranberries soften up.
In a large mixing bowl, whisk together the oat flour, all-purpose flour, brown sugar, baking powder, baking soda, salt, ground cinnamon, ground nutmeg and pinch of ground cardamom.
In a small mixing bowl, combine the oil, the unsweetened almond milk, pure vanilla extract and orange zest. Drain the orange juice from the cranberries. They should have plumped up and softened a bit.
Add the wet ingredients to the dry ingredients. Mix until just combined. Fold in the cranberries and the walnuts. Spoon muffin batter into 12 greased or paper-lined muffin tins filling them each about 2/3 way full.
Bake for 20 minutes or until golden brown and a tooth pick inserted in the middle comes out clean or with a dry crumb. Let muffins rest in tins for 5 minutes then transfer to a wire rack to cool completely. Muffins will keep up to 5 days if kept in an airtight container.
NOTE: To make oat flour, pulse rolled oats in a food processor until ground into a dense flour
Source: adapted from Minimalist Baker – Dark Chocolate Cherry Muffins