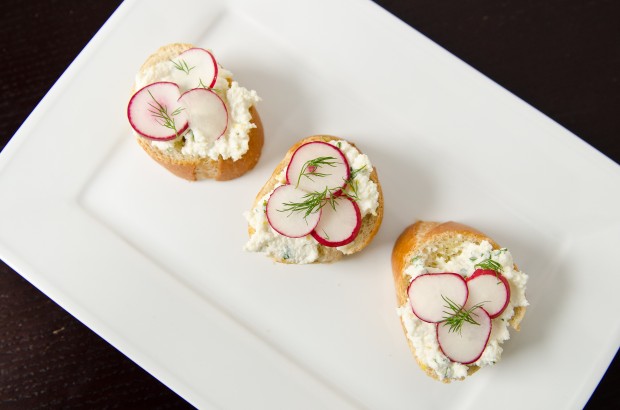 The weather may still be snowy and chilly here, but my mind is set on spring. So much so that I trudged through the snow this morning to get the ingredients to make these delicious, spring-inspired crostini for lunch today. I also stopped by my favourite local Bakery – Stella's – to pick up some whole wheat foccacia and a pear almond tart. Yum!
These crostini made for a perfect light lunch! The ricotta was perfectly flavoured with bright lemon zest, lemon juice and fresh herbs. I used fresh mint and dill for the crostini I made, but I bet that flat-leaf parsley and chives would be wonderful too. I really enjoyed the earthy, mildly spicy radishes a top the crostini, but you can use any of your favourite veggies. I think cucumber slices or thinly sliced yellow beets would also be a really nice option. These crostini are the perfect way to celebrate the coming of sping. (It's IS coming….right!? hehe!) They are great for a simple, light lunch. They would also work great as an appetizer for a dinner party or as a contribution to a wedding or baby shower.
Herbed Ricotta + Radish Crostini
Ingredients
8 to 10 slices of baguette (1/4 inch thick)
1 teaspoon of olive oil
1 clove of garlic, halved
1/2 cup of ricotta cheese
1/2 teaspoon of fresh lemon zest
2 teaspoons of fresh lemon juice (or juice of half a lemon)
2 teaspoons of fresh chopped herbs
salt and pepper to taste
1/2 cup of thinly sliced radishes
chopped herbs for garnish
Method
Preheat oven to 350'F. Place 8 to 10 pieces of bread on a parchment lined baking sheet. Drizzle olive oil over the slices of baguette. Place baking sheet into oven and toast bread until lightly golden and slightly crisp (about 6 minutes).
Meanwhile, in a small bowl, combine the ricotta cheese, lemon zest, lemon juice, fresh herbs (chives, mint, parsley, dill etc), salt and pepper. Mix well.
Once the bread is toasted, rub cut-side of clove of garlic half over the tops of the bread. Put a large dollop of the ricotta mixture on top of each crostini. Place 3 to 4 slices of radish on top of the ricotta mixture. Garnish with some fresh herbs.
Notes
Source: loosely adapted from Canadian Living Magazine