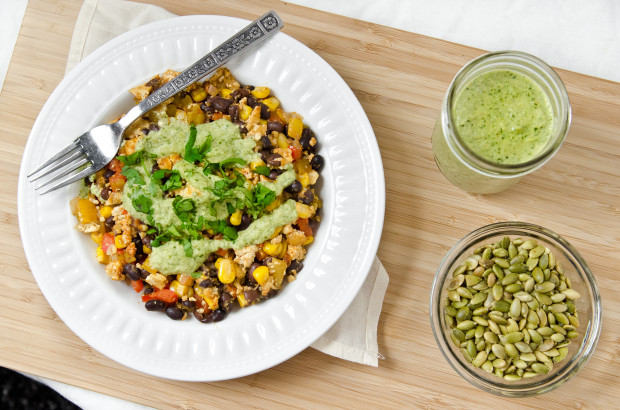 In all honesty, tofu has just never appealed to me. In fact, I have avoided it like the plague. I've heard time and time again that I've just never had it prepared right. I've been told that tofu takes the flavour of whatever you season it with and should develop a nice texture if cooked properly. I did not buy it for a second. In my opinion, it was always bland and soggy. I could not see how cooking it properly would turn the white slab into anything but gross. *haha* But after recently trying a tofu scramble at one of my favourite local restaurants, my opinion started to sway more toward accepting tofu into my life. More specifically, organic pressed tofu.
So, I decided to put my big girl pants on and finally try and cook tofu at home. Since I had recently enjoyed a tofu scramble, I thought I would start there. With Cinco de Mayo quickly approaching, I thought I would mix together some traditional latin flavours and ingredients and make a Mexican tofu scramble. I combined the tofu with some sautéed onion, red & yellow peppers, green chilies, corn and black beans. Then I seasoned the dish with cumin, chili powder, some S&P and fresh lime juice. The dish tasted great on its own, but I love sauces and wanted something really flavourful to top the dish with. Roasted tomatillos to the rescue! Roasting the tomatillos brings out some natural sweetness which pairs up nicely with the garlic, spicy jalapeño and fresh cilantro. The pepitas add some body to the salsa. If you find the salsa a little too sour (tomatillos can vary in sweetness), add in a little agave or honey. Feel free to sub store-bought salsa (tomato, verde, mango etc) if you are low on time. This tofu scramble would be great wrapped in a tortilla and served as a breakfast burrito.
Have a wonderful, relaxing Sunday :)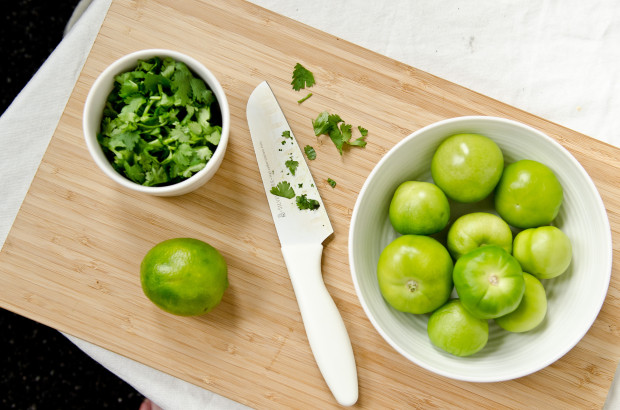 Mexican Tofu Scramble with Tomatillo Salsa
Ingredients
For the Roasted Tomatillo Salsa:

6 large or 8 small tomatillos, husks removed, washed and left whole
1 jalapeño, cut in half with seeds removed
1 tablespoon of olive oil
salt and pepper
1 large clove of garlic
1/2 cup of unsalted pepitas (raw green pumpkin seeds)
1/2 cup of chopped fresh cilantro (or parsley)
1 small onion, finely diced
1 tablespoon of olive oil
1-14 ounce block of pressed tofu, crumbled into bite-sized pieces
1 red pepper, diced
1 yellow pepper, diced
1 4 ounce (127ml) tin of diced green chilies
1 teaspoon of ground cumin
1 teaspoon of chili powder
1 cup of frozen corn
1-14 ounce (398ml) can of black beans, rinsed
1 small lime
1 small avocado, diced
Method
Preheat oven to 375'F. Toss the tomatillos and jalapeño with 1 tablespoon of olive oil and season with salt and pepper. Place in a roasting pan and roast in the oven for 25 minutes.
Meanwhile, heat 1 tablespoon of oil in a large frying pan over medium heat. Add onions and sauté until soft and translucent (about 5 minutes). Add tofu to the pan and allow it to brown slightly (about 5 minutes).
Once tofu is browned slightly, add the green chilies, ground cumin and chili powder. Cook another 5 minutes and then add the black beans, corn and juice of a small lime. Cook over medium heat until heated through.
When the tomatillos have finished roasting, add all salsa ingredients into a blender and purée. If you don't like cilantro, feel free to use some parsley instead.
Plate the tofu scramble. Sprinkle with diced avocado followed by a generous drizzle of the roasted tomatillo salsa. Garnish with fresh chopped cilantro and/or a few pepitas.
Source: The Fig Tree (tomatillo salsa inspired by Cafe Flora in Seattle)