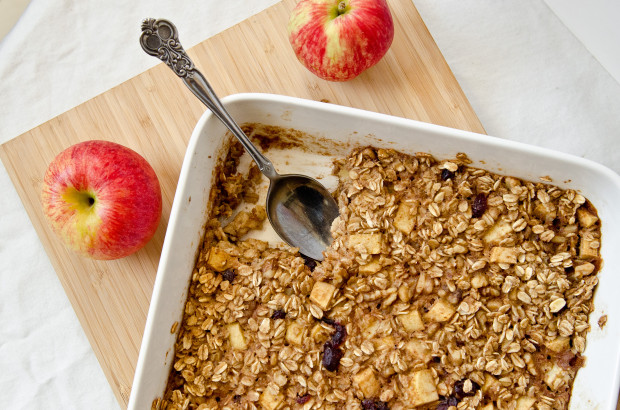 What a fabulous Labour Day weekend! Jesse and I spent the weekend in a small, lovely lake town called Gimli which is in northern Manitoba. We went for the weekend to spend time with some of our very best friends and their new little ones – Ruby and Norah. (ps. cutest baby names ever!)  It was so nice getting to catch up with our friends after our long trip. It was even nicer being able to spend lots of time cuddling with the new babies. Oh goodness, are they ever cute and smiley!
One thing is for sure – like it or not, the weather is on the cusp of changing from summer to fall. While we were driving home Sunday afternoon, there was a definite chill in the air (we had to turn on the heat!) and you could see that the leaves were starting to change colour. As much as I'm lamenting the end of summer and summer produce, I'm also really excited for fall produce. This week, we received some fresh apples in our organic fruits & veggies delivery and I thought I'd make an apple crisp with them. However, with the extra time off over the long weekend, I thought it would be even nicer to make a cozy brunch with the apples instead.
I love baked oatmeal, because it's really easy and the results are always wonderful regardless of the fruit, spices and mix-ins you use. But I do have a soft spot for apples and cinnamon for breakfast/brunch. I know Jesse does too. Simply mix the oats with some almond milk, cinnamon, vanilla, apple sauce and maple syrup.  Apples, walnuts and dried cranberries are mixed for good measure. Bake the oatmeal until it is set and all of the liquid is absorbed and you have the perfect dish for an early fall breakfast or brunch. Cut the leftover baked oatmeal into bars and bring them to work or pack them in your kids' lunches for a quick and easy weekday breakfast or snack.
Vegan Apple Cinnamon Baked Oatmeal
A naturally-sweetened baked oatmeal filled with fresh apples, walnuts and dried cranberries flavoured with warm cinnamon and a hint of nutmeg and vanilla. The perfect dish for a lazy weekend brunch or a quick weekday breakfast that can easily be packed in squares and re-heated at work. Also great for kids' lunches!
Ingredients
2 cups of old-fashioned or rolled oats
1 and 1/2 teaspoons of ground cinnamon
pinch of ground nutmeg
1 teaspoon of baking powder
1/4 teaspoon of salt
2 cups of unsweetened almond milk
1/2 cup of unsweetened apple sauce
1 tablespoon of vegan butter, melted
1 teaspoon of pure vanilla extract
1/3 cup of pure maple syrup
1 flax egg (1 tbsp of ground flax combined with 3 tbsps of water)
2 apples, peeled, cored and diced
1/2 cup of chopped walnuts
1/3 cup of dried cranberries
Method
Preheat oven to 350'F. Spray an 8 x 8 inch baking pan/casserole dish with an oil mister or cooking spray.
In a glass measuring cup, melt the butter in microwave and set aside to cool. Additionally, in a small cup, combine the ground flax with water. Mix and set aside to allow it time to thicken up to an egg-like consistency.
In a large bowl, combine the oats, ground cinnamon, pinch of nutmeg, baking powder and salt. In a smaller bowl, combine the almond milk, apple sauce, butter, maple syrup and vanilla extract.
Pour the wet ingredients into the dry ingredients. Mix until just combined. Fold in the flax egg followed by the chopped apples, walnuts and cranberries. Pour batter into the prepared baking pan.
Bake the oatmeal for 35 to 40 minutes, or until the liquid is absorbed and the oatmeal is set. The top should also be lightly browned. Allow oatmeal to cool 5 minutes before serving.
Source: inspired by Two Peas & Their Pod