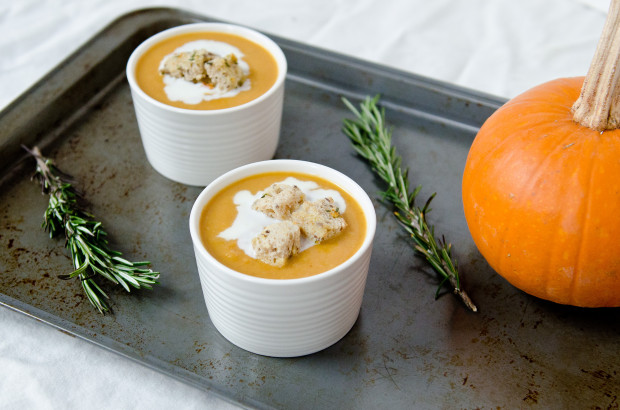 Winter is definitely starting to make itself known here on the prairies. Over the past few days, it's been snowing on and off and it has been quite blustery. So, on Friday, Jesse and I decided to forgo our usual date night out and cuddle up and stay warm at home. We made this delicious soup together and proceeded to have a Breaking Bad marathon. We are a little late to the game – but we powered through seasons one and two this week. So good! I cannot wait to get through the remaining four seasons!
Now, more about the pumpkin bisque. It's a stick-to-your-bones kind of soup. Very hearty and heartwarming. The white bean purée ups both the creaminess and the protein content of the soup. This healthy bisque has a nice subtle pumpkin flavour elevated by the spices, garlic and onions.  The apple cider vinegar cuts the richness of the soup well. The bonus – this bisque is very easy to put together and it tastes even better the next day as leftovers. This would be great as a starter soup for an upcoming holiday dinner. Add a swirl of crème fraîche and a few garlic rosemary croutons and you've got one delicious meal for a chilly fall evening.
Spiced Pumpkin White Bean Bisque
Ingredients
1 tablespoon of butter or canola oil
1 medium onion, diced
3 cloves of garlic, minced
1 tablespoon of freshly chopped sage
pinch of ground nutmeg
1/2 teaspoon of ground cumin
2 and 1/2 cups of low-sodium vegetable stock
1 cup of canned cannelli beans (white kidney beans); well rinsed
1-15 ounce can of pumpkin purée (not pumpkin pie filling)
1 cup of 2% milk or almond milk
2 tablespoons of apple cider vinegar
salt and pepper to taste
crème fraîche (optional)
4 pieces of crusty sourdough bread, cut into 1 inch cubes
1 large clove of garlic, minced
1 teaspoon of fresh chopped rosemary
1 tablespoon of canola oil or butter
sea salt and pepper to taste
Method
Melt butter or heat oil in a large pot over medium-high heat. Add onions, garlic and sage. Sauté for 5 minutes, or until the onions are translucent. Add pinch of nutmeg and the ground cumin. Sauté for about a minute then add 1/2 cup of vegetable stock. Scrape down the pan to loosen up the browned bits. Note: you could substitute 1/2 cup of hard apple cider here and it tastes delicious!
Combine the onion/spice mixture, 2 cups of stock, white beans and pumpkin purée in a blender. Process until smooth. Note: if you don't have a blender, you can use a hand immersion blender or food processor.
Return mixture to the pot. Stir in the milk then bring to a simmer. Season with salt and pepper.
Cook through for about 5 minutes and then add in the apple cider vinegar. Garnish with a swirl of crème fraîche and garlic rosemary croutons.
Garlic Rosemary Croutons: In a medium frying pan, heat 1 tablespoon of oil or butter over medium heat. Add the minced garlic and rosemary and heat until fragrant (about 1 minute). Add pieces of bread, tossing to coat well with oil and herbs. Toast bread for about 5 minutes, ensuring bread is tossed every minute or so to prevent burning. Season with sea salt and pepper.
Notes
Source: adapted from Cooking Light Magazine Nov.2013; garlic rosemary croutons by The Fig Tree