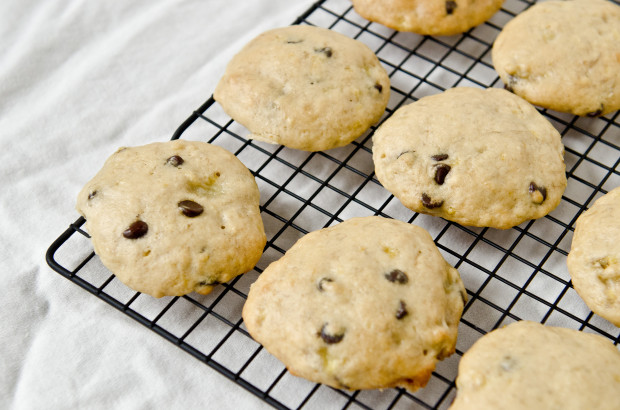 Cookies with the texture of a muffin. So light, fluffy and cakey. Genius! Or well…I thought it was genius because it gave me the perfect excuse for having cookies for breakfast. *hehe* These cookies are perfect to throw together if you have some bananas going brown on your counter and you'd like to make something other than conventional banana bread. Although, I'm not sure I'd ever say no to banana bread!
These little cookies can be made for a special brunch offering or even for the kids' lunches. The recipe calls for fat-free milk and very little oil. The majority of the moisture comes from the bananas, so they are much healthier than the average cookie/muffin. To keep things on the healthier side, I like to mix in a little whole wheat flour and chopped walnuts.
Hope you all had a wonderful weekend! I made a batch of these cookies to take when we visited two of our best friends on Sunday. Saturday, I was honoured to volunteer at the Canadian Women for Women in Afghanistan fundraiser. We presented an incredible Afghan buffet and a movie called Buzkashi Boys. Thank you to all of you who attended this year's event! It was a huge success! Your continued support had made a huge impact on the lives of girls throughout Afghanistan.
Chocolate Chip Banana Bread Cookies
Ingredients
3/4 cup of fat-free evaporated milk
2 tablespoons of white vinegar
1 cup of ripe mashed bananas (2-3 medium bananas)
1 banana, sliced 1/4 inch and then quartered (about 2/3 cup)
1 teaspoon of baking soda
1 egg
3/4 cup of packed brown sugar
1/4 cup of canola oil
1 teaspoon of pure vanilla extract
2 cups of all-purpose flour
1/2 cup of whole-wheat flour
1/4 teaspoon of salt
1 teaspoon of baking powder
1/3 cup of semi-sweet chocolate chips
1/3 cup of chopped pecans or walnuts (optional)
Method
Preheat oven to 350'F. Line 3 baking sheets with parchment paper.
Combine the evaporated milk and vinegar in a medium bowl. Stir well. Mixture will thicken after a few minutes. Add in the mashed bananas, sliced banana and baking soda.
Whisk together the egg, brown sugar, oil and vanilla in another medium bowl. Set aside.
In a large bowl, combine the all-purpose flour with the whole-wheat flour, baking powder and salt. Mix in the brown sugar/oil mixture followed by the banana mixture. Stir until the mixture is well combined. Add the chocolate chips and walnuts/pecans (if using).
Drop 2 tablespoons of dough onto the prepared baking sheets (about 2 inches apart).
Bake the cookies in the preheated oven for 13 to 15 minutes, or until the edges are lightly golden. Let cookies cool on the pan for 5 minutes and then transfer to a wire cooling rack.
Notes
Source: adapated from Robin Hood (www.Robinhood.com)