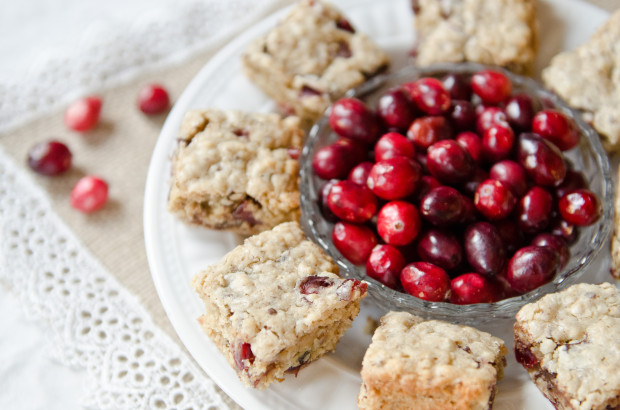 These little oat squares loaded with tart cranberries, semi-sweet chocolate and crunchy pecans are addictive. Last weekend, I made a batch of these and delivered them to a few family members. Since then, I've received three separate phone calls placing orders for more chocolate cranberry oat squares. And now I suppose I know what I will be doing this weekend! I will be making a double batch of these  to keep the masses happy. :)
This recipe is more than just utterly delicious and a huge hit with the family. It also means a lot to me personally, as a dear friend of mine passed this tried-and-true favourite to me. Making some of her favourite recipes keeps her near and dear to my heart.
Spread a little love with these delicious cranberry squares this holiday season :)
Chocolate Cranberry Oat Squares
Ingredients
1 cup of dried sweetened cranberries
1/4 cup of orange juice
1 and 1/2 cups of all-purpose flour
1 and 1/2 cups of quick-oats
1 teaspoon of baking powder
1/4 teaspoon of salt
3/4 cup of unsalted butter or margarine
1 and 1/2 cups of packed brown sugar
2 eggs
4-one ounce squares of semi-sweet baking chocolate; coarsely chopped
1/2 cup of chopped pecans
Method
Preheat oven to 350'F. Line a 9 X 13 baking pan with parchment paper. Set aside.
Combine the cranberries and orange juice in a microwave-safe bowl. Microwave the cranberry/orange mixture for 30 seconds. Allow mixture to stand for 10 minutes.
In a small mixing bowl, combine the flour, oats, baking powder and salt. Set aside.
In a separate bowl, beat together the butter or margarine with the brown sugar until light and fluffy. Add eggs one at a time, mixing well between each addition. Gradually add in the flour mixture. Stir in the cranberry/orange mixture followed by the chopped chocolate and pecans.
Spread mixture firmly into the baking pan. Bake for 22 to 25 minutes, or until the centre is set. Cool completely on a wire rack before cutting into squares.
Source: a great friend <3