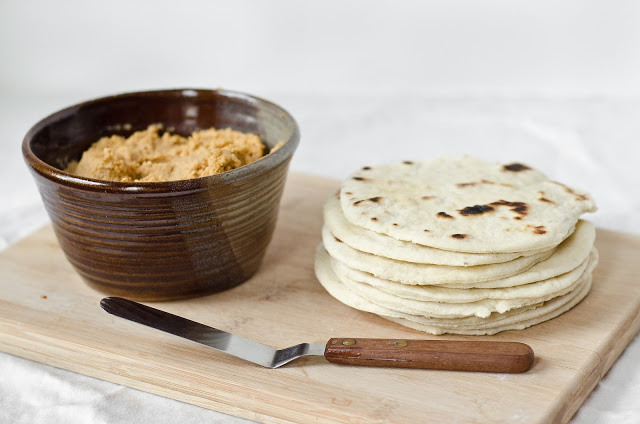 When I was growing up, my mom made Mexican food at least once a week.  It was my favourite night of the week as I loved Mexican food!!! Hmmm, some things never change… *hehe* One evening, mom decided to make us quesadillas and surprised us with homemade tortillas. We were all hooked – the fresh tortillas were fantastic. Ever since then, I've much preferred homemade flour tortillas to store-bought ones. I suppose that makes sense, since homemade anything is usually better than store-bought counterparts.
Homemade tortillas are easy to make and take very little time. They freeze extremely well, so you can make a large batch and have them readily available whenever the mood strikes.
Tomorrow, I will be posting a delicious & unique quesadilla recipe. These homemade flour tortillas work perfectly when making quesadillas. I thought I would share this recipe today just in case you'd like to try your hand at making homemade tortillas. They are like little blank canvases waiting to be decorated with fantastic fresh, flavourful ingredients. *hehe* 
One final note: these tortillas are great cut into wedges and smeared with hummus. The perfect quick & healthy snack :)
Ingredients
1 cup of all-purpose flour

1 cup of whole wheat flour

1 teaspoon of baking powder

1 teaspoon of salt

1/4 cup of unsalted butter or Earth Balance; slightly chilled

2/3 cup of water
Method
1. Place flours, baking powder and salt in a medium bowl. Mix well.
2. Cut in the butter until the mixture is crumbly. Note: I put the flour mixture into the bowl of a food processor and then cut the butter in by pulsing the mixture a few times.
3. Add water slowly and mix until the dough forms a ball. Note: I slowly added the water into the food processor, as I pulsed the mixture until it formed a nice ball of dough. If the dough is too dry, add 1 tablespoons of water at a time until it forms a ball.
4. Turn onto a floured surface and knead 8 times. Cover with an inverted bowl and let rest for 20 minutes.
5. Cut the dough into 10 individual pieces and roll into balls. Roll out a portion/ball of dough as thin as you can. Invert a 7 inch (18cm) bowl or 8 inch (20 cm) plate on the dough, cut around the edge and repeat until all dough is rolled.
6. Place 1 tortilla on an ungreased frying pan on medium-high heat. Dark spots will begin to appear in 15 to 20 seconds, flip, brown another 15 seconds and set tortilla aside. Continue this process until all of the tortillas are cooked through. Keep hot tortillas warm in a tea towel.
Tortillas can be frozen (flat & separated) once thoroughly cooled. Placing some waxed paper between the tortillas before freezing allows for easier separation after being frozen. When you are ready to use the tortillas, you can place them in the fridge the night before you plan to use them, so they are thawed by dinner time. You can also microwave them, but be careful not to microwave them for long, or you'll end up with very dry/hard tortillas. I suggest no more than 20 seconds. You can also warm them up in the oven for a few minutes at 350'F – my preferred method.
You can also cut the dough into smaller pieces to make small tortillas that you can top with all sorts of ingredients to serve as appetizers.
Yield: 10 to 12 tortillas – recipe can easily be doubled
Source: Company's Coming Breads