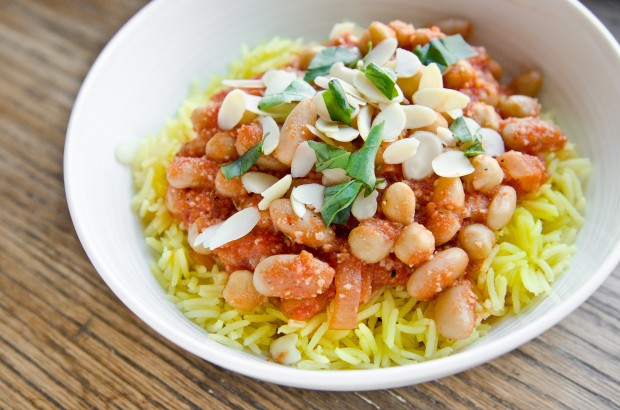 Today's post is inspired by one of my favourite sauces – Romesco sauce. Originating in Spain, Romesco sauce is a blend of nuts (generally almonds), roasted red peppers, garlic, oil and chilies. Roasted tomatoes, red wine vinegar and onions may also be added to the sauce to enhance flavour. Although Romesco sauce is traditionally served with seafood in Spain, it also makes a really nice condiment for vegetables. For this dish, chickpeas are cooked in a rich romesco sauce and served over top a bed of garlic saffron rice. The garlic saffron rice added a whole different element to the dish. Wow. So much flavour. The recipe made a bit more stew than there is rice. So, for leftovers the next day, Jesse and I ate the remaining chickpea romesco with some crusty bread. Sopping up the delicious sauce with the bread was perfect!
Wishing you all a wonderful, relaxing Sunday. Our Sunday will be pretty quiet and likely spent indoors. It's snowing YET again. Seriously…this has got to stop. *haha* We've had snow since October. I'm ready for some warm weather! Tonight, we are going to my parents' place for a pizza party and to watch the Juno awards. The Junos are Canada's televised music awards. Michael Buble will be hosting the awards tonight.
I'll be back in a few days with a new recipe post :) Wishing you all a happy Sunday! xo
Chickpea Romesco Ingredients
1/4 cup of ground almonds
1 (28-ounce) can of diced tomatoes (fire-roasted if possible)
2 roasted red bell peppers, homemade or store-bought
2 tablespoons of olive oil or canola oil
3 cloves of garlic, finely minced
2 shallots, finely minced
1 small chile, seeded and minced finely (ex. red serrano chile) (optional)
1/4 cup of white wine or vegetable broth
2 teaspoons of red wine vinegar
2 teaspoons of sugar
1 teaspoon of dried thyme
1/2 teaspoon of dried rosemary, crumbled
2 (15-ounce) cans of chickpeas, drained and rinsed
salt and pepper to taste
chopped fresh mint or basil for garnish
Garlic Saffron Rice Ingredients
1 and 3/4 cups of vegetable broth
1 pinch of Spanish saffron
2 tablespoons of canola oil or olive oil
1 medium onion, finely chopped
4 cloves of garlic, minced
1 cup of basmati or jasmine rice
salt and pepper to taste
sliced almonds
Garlic Saffron Rice: Heat vegetable stock in a small sauce pan and add saffron. Allow the saffron to infuse the vegetable stock. Meanwhile, in a medium saucepan, heat 2 tablespoons of olive oil over medium heat. Sauté onions until translucent (about 5 minutes). Add garlic and sauté another 3 minutes. Add the uncooked basmati or jasmine rice to the garlic + onions. Toast rice for 1 minute then add the saffron vegetable broth. Bring the mixture to a boil, stir and then reduce heat to a simmer. Cover the rice and allow it to cook for 15 minutes. After 15 minutes, remove rice from heat and allow it to sit, covered, for another 10 minutes. Fluff with a fork and add in sliced almonds.
Chickpea Romesco Method
1. Working in two or more batches, purée the tomatoes and roasted red peppers together until smooth in a food processor or with a hand immersion blender. Pour the tomato/pepper mixture into a large bowl and set aside.
2. Preheat a large saucepan over medium heat. Sauté the garlic, shallots and chile in the olive oil until the shallots are slightly golden (about 4 minutes). Pour in the white wine or vegetable stock to deglaze the pan. Simmer for 1 minute.
3. Add the tomato/pepper purée, vinegar, sugar, thyme, and rosemary. Turn the heat to medium-high and bring to a boil. Lower the heat to a summer for 10 minutes, stirring occasionally.
4. Add the ground almonds and stir the mixture until they are completely combined. Fold in the chickpeas and simmer, uncovered, for 20 minutes – or until the sauce is slightly reduced and the chickpeas are nice and tender. Remove from the heat, season with salt and pepper, and allow to cool for 5 minutes before serving.
Serve over top of Saffron Garlic Rice. Garnish with sliced almonds.
Yield:  6 servings
Source: adapted from Veganomicon by Isa Chandra Moskowitz & Terry Hope Romero