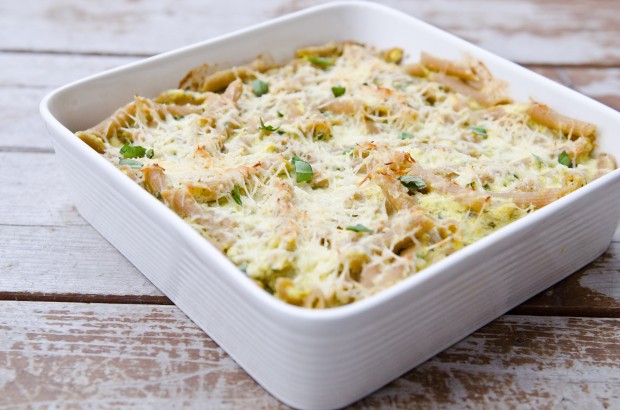 Hello! I hope you all had a lovely weekend. My weekend was really nice even if I was not feeling well. My body is crazy slow at recovering from jet lag! Saturday, Jesse and I checked out some neat old buildings downtown in an event called "Doors Open Winnipeg." It was neat to learn the history of the buildings around our home. We live in an area where old warehouses and such have been transformed into condos, apartments, shops and restaurants. It was really fun learning more about our neighbourhood's past. Saturday evening, Jesse and I met some of our friends for the "dinner-of-the-month" club. This month, we met up at an Argentine pizza place called Corrientes. Excellent food and even better company. After dinner, we went for some late-night gelato and laughed until our sides hurt.
Sunday, Jesse and I decided to make dinner together and then watch the TV series The Killing on Netflix. We were going to watch Arrested Development, but Jesse has to catch up a little bit on the first 3 seasons. For those of you who saw the new season, what did you think!? For dinner, we made this casserole filled with fresh corn, zucchini, a mixture of cheeses, lemon and basil. It was a nice light, summer-inspired dish!
Jesse is such a trooper – as are many food blogger spouses and significant others. Before we could eat, I dragged him outside to help me take some photos of the casserole. Since we live in a condo, a lot of our neighbours are constantly coming and going. Quite a few of them could not quite understand what was going on. Poor Jesse had to hold the casserole dish with lime green oven mitts while I photographed the food. I'm convinced our neighbours now think we are crazy. *hah* Oopsie!
And on that note – here's wishing you all a wonderful week! Now that I'm in the swing of things again at home, I am hoping to have a new recipe post up on Thursday :)
Sweet Corn & Basil Penne Casserole
Ingredients
1 pound of dried whole wheat penne
1 large zucchini, diced
1/2 tablespoon of olive oil
2 cups of frozen corn (thawed) or fresh corn
1/2 cup of half & half cream
2 cloves of garlic, peeled
1/2 block of low-fat cream cheese or 1/2 cup of mascarpone; at room temperature
1/2 cup of low-fat ricotta cheese
1 and 1/2 cups of grated parmesan cheese; divided
zest of one large lemon
juice of half a large lemon
salt and pepper to taste
3/4 cup of chopped fresh basil
Method
Preheat oven to 350'F.
Toss zucchini with olive oil and season with salt and pepper. Spread zucchini on a parchment-lined baking sheet. Roast zucchini in the oven for 10 minutes (or until slightly tender).
Meanwhile, bring a large pot of water to a boil. Season with salt. Cook penne according to package instructions until just al dente. Reserve 1/2 cup of pasta water to lighten up the sauce.
In a food processor, purée the corn, cream, and garlic. Add the mascarpone or cream cheese, ricotta cheese, 1 cup of parmesan cheese, lemon zest, lemon juice, salt and pepper. Blend until smooth. Add the fresh basil and pulse until well-combined. Note: if you find that the sauce is too thick, add a little bit of reserved pasta water. You want sauce to be a bit saucy!
Combine the creamy corn sauce with the cooked penne. Add in the roasted zucchini. Pour into a medium-sized casserole dish then sprinkle with 1/2 cup of parmesan cheese. Bake casserole for 25 minutes, or until the top is slightly browned.
Notes
Source: The Fig Tree (sauce loosely based on a recipe from Weeknights with Giada)