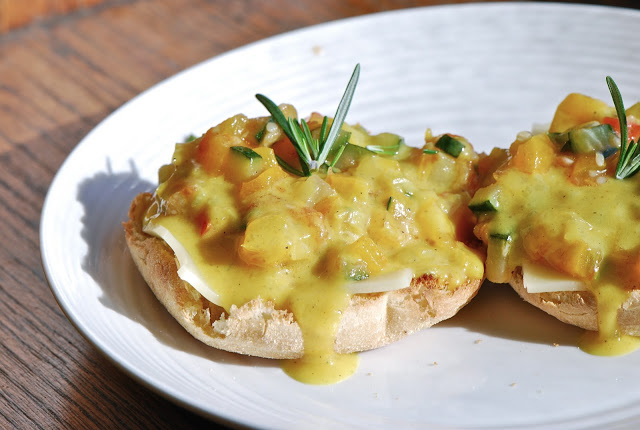 I've always wanted to try Hollandaise sauce. When I lived at home, my mom often made Eggs Benedict for breakfast on the weekends for my dad and sister. I used to look at their meal with such envy! It looked delicious! Problem is, I am allergic to eggs and Hollandaise sauce is normally made from eggs and butter. 
I recently saw a recipe for "no-egg" Hollandaise sauce in an issue of Vegetarian Times magazine. It inspired me to make a vegetarian breakfast sandwich similar to an Eggs Benedict. I replaced the regular Hollandaise sauce with a "no-egg" version. I then combined sauteed vegetables and swiss cheese on a toasted English muffin. And it was delicious! The Hollandaise sauce was extremely rich and flavourful. I would imagine it tastes pretty similar to regular Hollandaise sauce. The combination of the sauteed vegetables with the fresh rosemary was prefect. An extremely delicious alternative to the classic eggs benedict breakfast sandwich.
Ingredients
Hollandaise Sauce (the "no-egg" variety)
1 and 1/2 teaspoon of olive oil

1 large shallot, finely minced (2 tablespoons)

1 clove of garlic, finely minced

1 and 1/2 teaspoons of white wine vinegar

1 cup of milk or soy milk

2 teaspoons of cornstarch

1/4 teaspoon of turmeric

1 vegetable bouillon cube or 1 teaspoon of vegetable stock powder

1 and 1/2 teaspoons of fresh lemon juice

2 tablespoons of unsalted butter (or vegan butter)

salt and pepper to taste

1 teaspoon of sugar (if vinegar and lemon are too sour)
Vegetable Mixture
1 yellow or red pepper, diced finely

1 zucchini, chopped

1 tomato, chopped

1 and 1/2 teaspoons of olive oil

1 clove of garlic, finely minced

a few sprigs of rosemary
Other Items
English Muffins, toasted (note: use vegan English muffins if you want this to be a vegan meal)

Slices of swiss cheese (you could also use vegan cheese slices here)
Method
1. In a medium-sized frying pan, heat 1 and 1/2 teaspoons of olive oil. Add diced garlic and heat for 30 seconds. Add the diced pepper and zucchini. Cook on medium heat until the peppers are softened. Once softened, add the tomatoes and rosemary and saute another 2 minutes. Season with salt and pepper. Put mixture aside.
2. In a medium-sized saucepan, heat 1 and 1/2 teaspoons of olive oil. Add the minced shallot and saute until translucent (about 2 to 4 minutes). Add the garlic and saute another minute. Add the white wine vinegar and simmer.
3. Meanwhile, whisk together the milk (soy milk), cornstarch, turmeric and vegetable stock powder in a bowl. (note: you can use homemade vegetable stock here. Just add the stock directly the to shallot/garlic mixture right after you add the vinegar) Whisk the milk mixture slowly into the shallot/garlic mixture which was simmering on the stove. Cook on medium heat for 5 minutes; or until the mixture starts to thicken.
4. Add the lemon juice to the sauce and then stir in the butter. Season with salt and pepper. Put sauce aside.
5. Toast the english muffins.
6. To assemble, place a slice of swiss cheese (or vegan cheese) on top of the warm English muffin. Spoon on a a few tablespoons of the vegetable mixture on top of the cheese. Then drizzle about 2 tablespoons of the hollandaise sauce onto the vegetable mixture. Sprinkle on some fresh rosemary. Enjoy!
Source: Hollandaise sauce adapted from Vegetarian Times Magazine (May/June 2010). Breakfast sandwich recipe created by Courtney Jones.