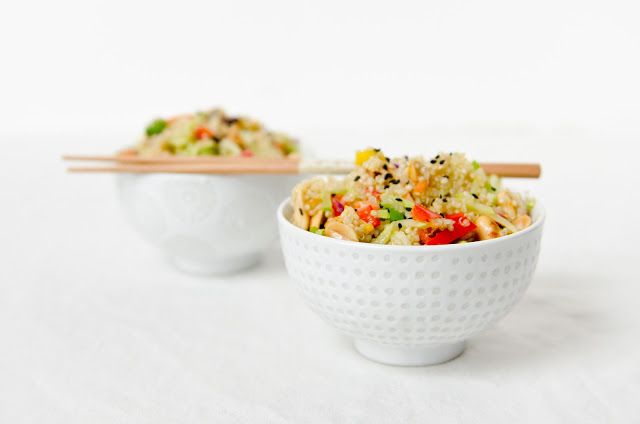 Hello! Hope you are all having a relaxing Sunday afternoon :) And for those of you in Eastern Canada and the North-Eastern US, I hope you have enjoyed your snowy weekend and were able to dig yourselves out okay. We've had a more-than-usual amount of snow this year as well, so I feel your pain. Although, that being said, we did not get it all at once! :)
This afternoon, I went to play with my sister's brand new puppy Maui out in the snow. Maui is an adorable little 9 week old Golden Doodle and I'm utterly smitten with her! She was hilarious running around in the snow today! She's still not quite sure what to think about it all just yet. It was fun watching her explore and discover things. And after she tired herself out, she cuddled with me. It's official – puppy cuddles are the best thing ever.
And what does this have to do with this salad? Not much really! Although, running after a puppy for a few hours left me so tired and so very hungry! So I came home and whipped up this delicious salad to quell my appetite. 
What makes this salad extra special is that the quinoa is cooked in a broth flavoured with fresh ginger, orange zest and orange juice. Add in some delicious crunchy vegetables, some peanuts and savoury dressing with sesame oil and you have one incredibly satisfying lunch. I'm glad I made a large batch, as now I have an awesome lunch to look forward to tomorrow. Something to make Monday a little more bearable, hey?
Wishing you a great start-to-your week! Tuesday, I have an awesome guest post that I cannot wait to share. And starting on Friday, I have a week-long special feature planned. Chat soon! xo
Ingredients
1 and 1/2 cups of low-sodium vegetable broth (or water)

1 cup of uncooked quinoa, well rinsed and drained

2 tablespoons of freshly grated ginger (divided)

1 teaspoon of freshly grated orange peel

juice of one small orange

1 tablespoon of rice wine vinegar

1 tablespoon of canola oil

1 teaspoon of sesame oil

1 tablespoon of honey (or agave)

pinch of salt

1 cup of trimmed sugar snap peas; halved

2 cups of broccoli slaw (shredded broccoli, red cabbage and carrots)

1 red pepper, cut into thin strips

1 yellow pepper, cut into thin strips

3 tablespoons of fresh cilantro or parsley

2 tablespoons of thinly sliced scallions

1 cup of dry roasted peanuts

1 tablespoon of black or white sesame seeds
Method
1. Place the vegetable stock, 1 tablespoon of grated ginger, grated orange rind, orange juice and rinsed quinoa in a medium sauce pot. Bring to a boil. Once boiling, reduce heat to a simmer and cover the pot. Cook the quinoa for 10 minutes.
2. Meanwhile, mix the rice wine vinegar, other tablespoon of grated ginger, canola oil, sesame oil, honey and salt in a small glass jar or container. Shake to combine.
3. After the quinoa has cooked for 10 minutes, turn off the heat.  Toss in the sugar snap peas, broccoli slaw and red pepper. Return lid to pot and allow the veggies to steam with the quinoa for 5 minutes. Remove lid and allow mixture to cool to room temperature.
4. Toss the quinoa mixture with the salad dressing. Add in the dry roasted peanuts. Garnish the salad with fresh cilantro (or parsley), scallions and sesame seeds.
Serve at room temperature.
Yield: 4 servings
Source: loosely adapted from weightwatchers.ca